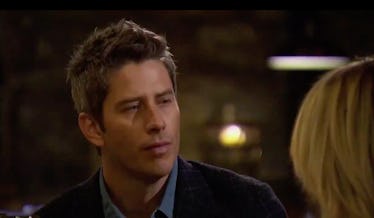 Arie Sent Home Some 'Bachelor' Fan Favorites On Week 3 Of 'The Bachelor' & Fans Are Sad
ABC
Arie continued to whittle down the ladies (and the Laurens) vying for his heart on Season 22 of The Bachelor, and this week had no shortage of drama when it came to what went down. Who went home on The Bachelor week 3? The struggle is real, my friends. Three women said their goodbyes.
One unlucky lady that failed to sweep Arie off his feet was Lauren S, despite going on a one-on-one in the most romantic of settings. Sometimes even the most lovey-dovey ideal rendezvous locales does not a match made in heaven make. After heading to a winery and chatting about their shared affection for going to bed early and wearing cardigans, she admitted she didn't feel like herself and was acting "all over the freaking place." We have to give dear Laur some props for reading the room and herself — it was pretty obvious that Arie was just not that into her. Remember, it's not you, Lauren — it's him. Or something. "I like me and I'm like cool with me," she said, after calling the date a wreck. Sadly, she did not get a rose, even though Arie held it while he let her down. Oof.
But she wasn't the only gal who was sent packing as things were just starting to heat up. When Annaleise continued to press Arie about their relationship status considering they hadn't connected or even kissed, he decided to just bite the bullet at the cocktail party and admit that he wasn't feelin' it at this stage in the game. After all the bumper car trauma drama and that intense dog story reenactment, we're sad to see her go. She's been through so much! But clearly those two were not meant to be.
And last but certainly not least of the Bachelor elimination players, week 3: Bibiana. Let's just say it. It hasn't been her week, her month, or even her group date. The gorgeous Miami native has had a rough time of it from the beginning, sparring with Krystal last week regarding getting enough time with Arie. Sorry, but we are constantly reminded of this Saved By the Bell moment every time we watch this show:
After getting teased by a former GLOW girl and expressing her "discomfort" to Arie about the Bachelor process, things kept going downhill. In a cringeworthy turn of events, Bibiana attempted to make it nice for Arie by composing a little romantic moment for the two of them to finally share. But it turned out to be a "you snooze, you lose" situation when Lauren B, and later Bekah, swooped in and spent time with Arie in the designated mini-date area instead. We hope those telescopes didn't go to waste.
"I definitely planned something special for Arie. I want privacy and it's really difficult to get that here," Bibiana explained. (Duh, there are more than a dozen ladies dating the same person at the same time.) "I want to create something where he could see that like I want this to be about us. I don't want distractions and I think he's going to love it. I'm excited to show him my little romantic setup."
"I knew I was going to be challenged today, but I'm hopeful," she went on, following getting completely sabotaged.
Alas, Bibiana didn't get a rose after all that. But she took it surprisingly well when faced with the dreaded Arie walk-out. Of course, he used the classic "it's just these decisions aren't easy" angle when addressing her.
"I don't deserve this and someone needs to just give me a break. I am broken and I want everyone to know that I have tried. But you can't force something that's not there," Bibiana confessed to the cameras through tears. That's the spirit. It's about perspective.
At least she has a fan in #BachelorNation!