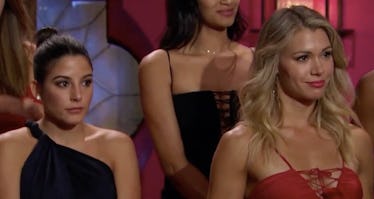 Bibiana Told Off Krystal On 'The Bachelor' & The Scene Will Make You Cringe So Hard
ABC
Although Arie is an especially low-key Bachelor, that doesn't mean this is going to be a drama-free season. Honestly, some girls are just trying to keep it real and it gets misinterpreted. Perfect example: Bibiana. She seems like a perfectly nice person, but she's not messing it around when comes to her place in The Bachelor mansion. Her DGAF attitude has definitely accumulated a lot of fans (and a little backlash) on social media. Tweets about Bibiana on The Bachelor are torn, but people are freaking out over her fight with Krystal.
Bibiana was included in the gang of women who were invited on the season's first group date. The women on the date included: Sienne, Valerie, Tia, Kendall, Maquel, Marikh, Jenna, Caroline, Bekah, Lauren G., Chelsea, Annaliese, Brittany, Jenny, and Bibiana.
The 15 women and Arie went on a demolition derby date. The girls each got their own hunk of junk car that they were allowed to stylize however they wanted with spray paint. Then, they went to town crashing into each other.
Bibiana was literally the spice of the date. That girl was basically driving around on four wheels and a seat (due to so much body damage), but she kept going and smashing into whoever she could.
After the rough-and-tumble date, the ladies got themselves together for the evening portion. This is where Bibiana didn't want anyone to "f*cking touch" her. Basically, she was pissed off because (in case you didn't know) it's really hard to compete with 14 other women for one guy's attention.
She had a slight meltdown on the group date and ended up storming out of the room, so now people are panicking that Bibiana is the new villain. NOOO, WE BARELY KNEW YOU.
During the episode's rose ceremony, Bibiana did say she got "aggressive" during the group date, but she still didn't get any time with Arie. She definitely has her work cut out for her. This is an extremely competitive season, and the girls are really shining.
Krystal literally met Arie's parents and Becca was given a pair of Neil Lane earrings — I'd be intimidated, too.
Bibiana promised that it would be a, "f*cking sh*t show," if she didn't get any time during the rose ceremony. I was honestly scared.
Bibiana did finally get some time alone with Arie, and she decided she wasn't going to let anyone rain on her parade. They talked a lot about Arie's dog, BUT THEN KRYSTAL INTERRUPTED. This was Krystal's second go at Arie during the cocktail party, when she already had a rose. In The Bachelor world, this is the wildest thing that could ever happen.
Afterwards, Krystal came to sit with the rest of the girls and Bibiana pointed out that she must have some "big balls" to sit with them. Bibiana (super eloquently) expressed basically what everyone else was thinking — that Krystal was being really inconsiderate pulling Arie aside twice when she already had a rose.
Krystal tried to explain that she was trying to check on Bibiana to see if she got any time, and Bibiana responded, "You need to check yourself first before you try to check on other people." DAYUMM.
She also stated the obvious when she said, "You just dug a big ass hole for yourself." Bibiana went on to say that no one in the house was going to respect her time because she didn't respect anyone else's. Needless to say, it was an overflow of drama.
Obviously, Bibiana and her entire approach to the show has gained a lot of support on Twitter.
Luckily for fans (and drama-lovers), Bibiana will be sticking around another week. Keep doing you, sis.
Check out the entire Gen Why series and other videos on Facebook and the Bustle app across Apple TV, Roku, and Amazon Fire TV.