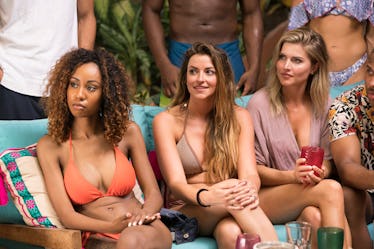 The 4 Women Who Went Home On 'Bachelor In Paradise' Episode 4 Were So Unexpected
ABC
After a long week of stuffed dogs and Tia's tears, Bachelor in Paradise finally reached the milestone of another rose ceremony. This time, the men handed out roses, and four women were at risk of going home. It felt like forever to get here, but who goes home on Bachelor in Paradise Episode 4? In a bit of an unexpected twist, Bibiana, Jacqueline, Caroline, and Nysha didn't receive roses and headed home.
Going into the rose ceremony, the women definitely weren't shy about wearing their hearts on their sleeves. With Tia and Colton finally calling their special bond official, one more couple checked off the milestone of being content background players on Season 5, while anyone unattached ran around like a headless chicken trying to find any semblance of love. Ah, it feels like high school prom season all over again.
After being unceremoniously dumped by Krystal Nielson earlier in the season, Kenny King juggled affections for three different women in Episode 4. While Jacqueline Trumbull wooed him with her worldliness and Bibiana Julian made a last-ditch effort to charm him by talking about her struggles in opening up, it was Annaliese Puccini's makeshift wrestling ring that captured enough of Kenny's heart to earn her a rose. I guess Paradise will have to find a new love guru now that Bibiana and her tough love talks are gone. Also, I knew Jacqueline was too good to be true when she started discussing Edgar Allan Poe. Maybe she can find her niche by running a Bachelor Nation book club?
Meanwhile, Caroline Lunny was sent home after a week of trying to catch John Graham's attention and a perfectly nice date with him. Their night together was sweet, but when Season 20 Bachelor relic Jubilee Sharpe (what even is a Ben Higgins?) showed up, John's connection with the military veteran proved stronger. Instead of trying to cozy up to another guy, Caroline failed in winning back John's attention, and she and her nervous wave checked out of Mexico when John awarded his rose to Jubilee.
After Jenna Cooper accepted Jordan Kimball's rose following his emotional explosion, and David Ravitz gave his rose to Chelsea Roy, the rest of the rose ceremony proceeded fairly predictably. Kevin Wendt chose Astrid Loch to receive his rose, while Chris Randone picked Krystal and Grocery Store Joe presented Kendall Long with his. Colton and Tia are perfectly happy rubbing their coupledom in everyone's faces now, while Eric Bigger ditched his Week 1 partner Nysha Norris in favor of his newest love interest Angela Amezcua. Alas, Nysha, we hardly knew you.
With four women now leaving the beach, it's time for the men to be back in the hot seat. More male ghosts of Bachelor Nation past will crash the Paradise clique later this week, and by the looks of it, we have plenty more lovesick drama coming our way. Who said that Tia and Colton finally getting together meant that the season's fun was over?
Bachelor in Paradise returns on Tuesday, Aug. 21, at 8 p.m. ET on ABC.