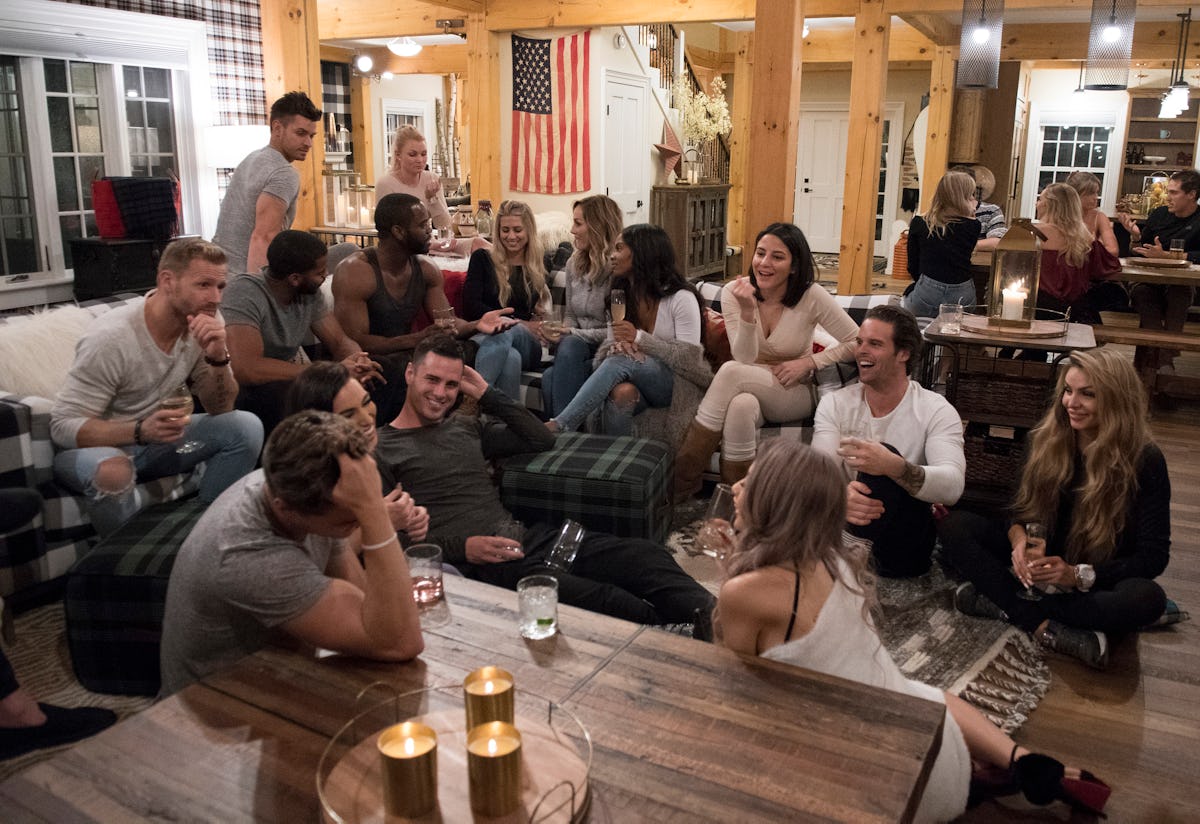 Someone Gets Engaged After 'Bachelor Winter Games,' Here's Who It Could Be
While I always think that Bachelor In Paradise tends to drag on and on, I'm actually enjoying the quicker pace of Bachelor Winter Games. While the relaxed atmosphere of Paradise always seems to produce engagements, the even closer quarters of Winter Games in a Vermont lodge may be the true secret ingredient in leading to engagements. After the Winter Games Twitter account basically confirmed an upcoming engagement with a shot of someone's bedazzled hand, we have to ask: Who gets engaged on Bachelor Winter Games?
The photo shared by the Winter Games account shows a woman's hand entwined with a man's and displaying a glittering engagement ring. Unless you have a (creepy, TBH) method allowing you to closely analyze each contestant's hands, it's near impossible to tell which couple has made it official.
As of Episode 2, there are several serious couples established in the house. Luke and Swedish contestant Stassi have bonded over similar health issues, and seeing as Luke was robbed of a Bachelor gig, I know I'm rooting for his happy ending. So far, the two have received a low-key edit, while fairly random couple Bibiana and Jordan also seem to have been left alone once the audience was aware of their pairing.
Foreign couple Courtney and Lily have also only been mentioned in passing, probably because the mainstream American audience just doesn't have enough emotional investment in them. New Zealand contestant Ally seems to have formed a serious bond with recent Bachelorette alum Josiah, while veteran American contestant Clare said goodbye to one of her foreign love interests and bickered with the other.
As for couples that are almost definitely still together, Dean and Lesley's post-show relationship has essentially been confirmed since long before the show's premiere. Ashley I.'s new connection with Bachelorette Canada alum Kevin also resulted in a Valentine's Day date in L.A. last week, so they are definitely other contenders for engagement.
Most notably, a marriage proposal was never teased in the show's original promos, which are always a reliable way to determine how a season may end. That being said, it's a fair assumption to say that the engagement happened during the recent filming of the "World Tells All" reunion special. Set to air alongside a finale episode on Thursday, Feb. 22, the reunion of a spinoff show has been the spot for unexpected proposals in the past.
Last summer, the controversial season of Bachelor in Paradise ended with Derek Peth proposing to Taylor Nolan, whereas past Paradise proposals have taken place on location in Mexico.
Speculating fans can also look to the main source itself for a hint of the romantic twist to come. Although my heart broke when Clare and Benoit parted ways in Episode 2, the Winter Games Twitter account posted a clip of the pair's first kiss the day after sharing the picture of the mystery engagement ring. It's a little strange to share a reminder of happier times when Benoit is supposedly out of the competition, right?
The account followed this odd post with a scene of the couple's breakup. Is production trying to tell us that Benoit makes a surprising return and reconciles with Clare?
At this point, it seems that the engaged couple could be anyone, but I have my eye on the Twitter account's promotion of Benoit and Clare moments so soon after sharing the news. The proposal exceeds host Chris Harrison's expectations for the show, as he told reporters before the premiere that, because of the speedy filming schedule, he didn't foresee any couples getting engaged:
We thought [Winter Games] had the potential [for successful relationships like Paradise], but the difference is the time frame. Our hope was that we would at least have a relationship. We dialed our expectations back just a little bit… but I think we exceeded our expectations.
The Bachelor Winter Games returns on Tuesday, Feb. 20 at 8 p.m. ET on ABC. The season wraps on Thursday, Feb. 22.