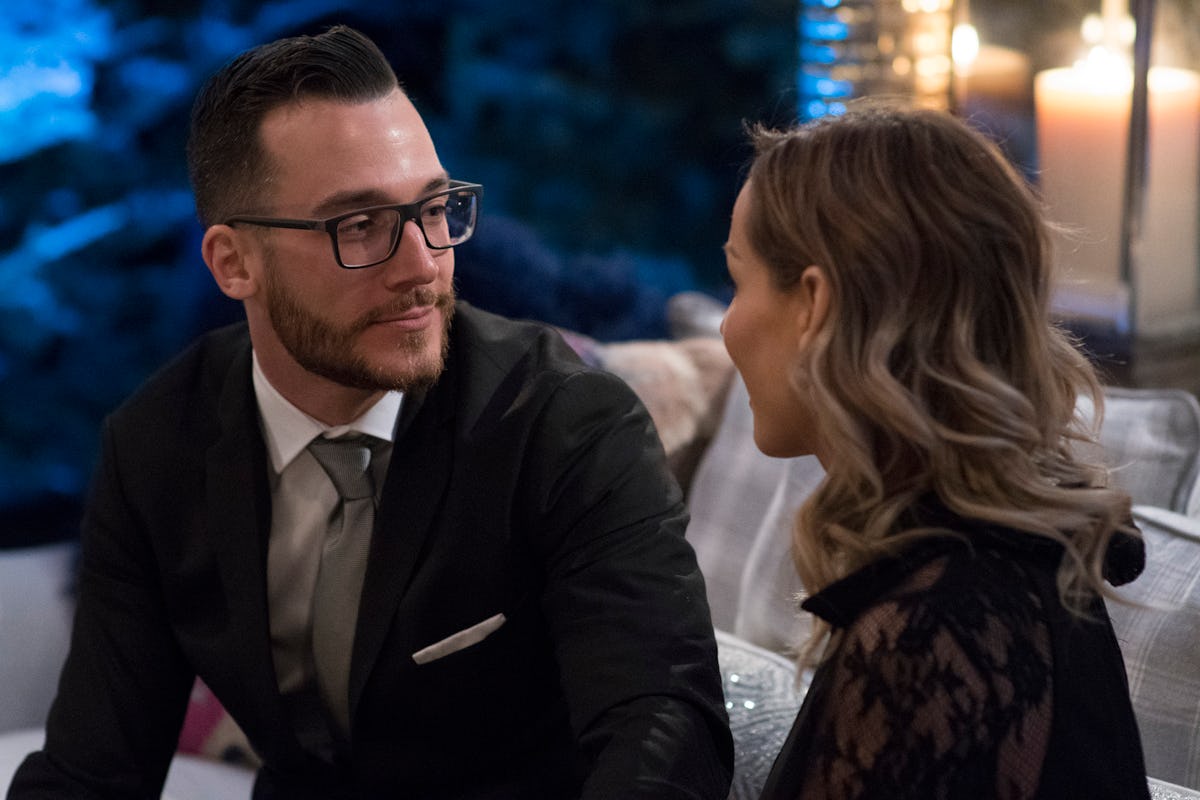 Clare & Benoit Had An Emotional Conversation On 'Bachelor Winter Games' & Twitter Lost It
ABC
Welp, we did NOT see that coming. Things are moving fast on Winter Games, as in I'm-going-home-if-you're-not-into-me fast. When the producers promised "winter tears are coming" we had frequent cryer Ashley Iaconetti in mind, but little did we know that Canadian Benoit would be the one shedding them. The cutie foodie with the strong accent and the "sexy" glasses fell hard for a certain alum from Juan Pablo's season and said a tearful goodbye this week. Tweets about Benoit & Clare on Bachelor Winter Games are making our hearts break in a zillion pieces.
This show is in its second episode, yet somehow everyone with a crush is ready to walk down the aisle already. Despite her connection with Benoit, Clare and Christian were also hitting it off, forming an early love triangle between the three of them. But Benoit was clearly smitten and he was not afraid to let his feelings all out — and we mean all out — in a very emotional convo with Clare. Unfortunately she just did not feel the same way he did, at least not yet anyway, which resulted in a shocking turn of events. Benoit basically admitted that it was not worth it to stick around in Vermont if she didn't want to pursue a real relationship with him. Cue the waterworks. What is going on here?!
"There's no reason to stay..." Benoit said through sobs. The guy was so heartbroken by Clare that he literally could not continue on. Kudos to him for being so honest, but like Clare, we have to ask: could he really not see himself falling for anyone else? "I love you so much," Benoit said to Claire as the pair parted ways. Excuse us, but hasn't it been like 24 hours? We won't judge, because clearly this guy is a total sweetheart. Everyone in the house was obsessed with him. The way they memorialized his untimely exit was as if he had bought them all puppies and did their laundry.
"I don't want to give false hope to something that I'm not feeling," Clare explained of why she couldn't reciprocate the lovey-doveyness. We get it. A contestant's gotta do what a contestant's gotta do.
"Benoit is the sensitive romantic who will sneak up on you," Chris Harrison blogged in People. You can say that again. This man is absolutely adorable. Even though he's a softie who only had eyes for Clare, we're guessing America's own Bachelor Nation will try to recruit him for future franchises. More international crossovers, please?
But here's the kicker. After letting go of Canada's Most Sensitive Bachelor, Clare surprised the heck out of everyone when she accepted Christian's rose at the end of the episode. Christian, who she fought with throughout the entire day following an odd misunderstanding about a jacuzzi date. We do not know if these two crazy kids stand the test of time — it kind of seems like they have a love/hate (mostly hate) thing going on.
Clare told Entertainment Tonight of her experience on the show,
Being in a love triangle was something that I thought would never happen on any of the shows, so it was definitely something new for me, and I didn't expect really any guy to be interested in me. I felt like I was going to be the old lady in the group … It was a pleasant surprise. … I'm a very private person, so I think in the public eye, it appears I've just been doing no dating [these last few years off-camera], but as a matter of fact, I've had some pretty serious relationships … but I'm not one to settle.
Hmm. We'll have to wait and see how that attitude plays out.
In the meantime, I'll be mourning Benoit's departure with the rest of the audience. Au revoir and good luck!