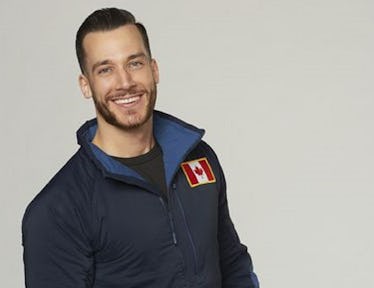 This Canadian 'Bachelor Winter Games' Contestant Will Steal Your Heart In No Time
It's unfortunate that American fans of the Bachelor franchise don't have greater access to the show's international versions. I hope that the premiere of Bachelor Winter Games on Feb. 13 provides us with details on international contestants' previous attempts to find love on TV, especially because one particular contestant has caught my eye. 31-year-old Benoit Beauséjour-Savard comes to Winter Games from the inaugural season of The Bachelorette Canada, on which he finished in fourth place. If you were already expecting the show's foreign men to have way more game than the Americans, Benoit on Bachelor Winter Games may totally make those fantasies come true for you.
Appearing on the Canadian Bachelorette in 2016, Benoit was a notable standout on the season because of his Montréal accent. The restaurant maître d' was bubbly and positive, revealing in his show bio that he was looking for a mate who was similarly extroverted:
As a Maître D' in trendy Old Montréal, 29-year-old Benoît is constantly surrounded by a bevy of beauties…and yet he is still searching for the love of his life. Benoît dreams of finding a loving wife and starting a family of his own, but he is holding out for the right girl – someone who knows what she wants, has a great sense of humor and is as outgoing and generous as he is. Benoît is ready to sweep the Bachelorette off her feet with his joie de vivre…and his sexy George St-Pierre's French accent!
Competing for the heart of 28-year-old hairstylist Jasmine Lorimer, Benoit almost seems like he could have been annoyingly happy, but his contestant questionnaire displays a much deeper side. While the typical questionnaire for American Bachelor casts has become embarrassingly cringe-worthy over the years, the Canadians' similar format actually played out in Benoit's favor.
While I may judge him for his taste in movies (the Robin Hood movie starring Russell Crowe is really one of his faves?), Benoit's questionnaire answers revealed an appetite for heavy-sounding books, which is always a plus for me:
[My favorite book is]...this French-Canadian book [that] describes well the battle between the conservative church mentality versus the progressive thinking of the sciences during the 19th century in Québec. All this is mixed with the relations between the First Nations and the French colonists. History is one of my passions.
Well, dang, Benoit.
Listing his guilty pleasure as enjoying Backstreet Boys songs, Benoit also seems sweetly devoted to his friends and family in his contestant survey. If he were to win the lottery, he'd aim to buy an entire space to build houses for all of them, and he'd also want to use the money to help suicide prevention efforts. American contestants usually don't turn this serious in their cast bios, which does speak of how unfiltered we may discover Benoit and other international contestants to be.
On his season of The Bachelorette, Benoit apparently wasn't very direct with Jasmine as hometown dates neared for the last few men. This recap of his elimination episode reveals that Jasmine didn't pick up on him intending for his compliment of her sparkly eyes to convey that he thought she was falling for him. Yeah, I don't really get it either. Benoit also had concerns that his family would absolutely love Jasmine and be devastated if she didn't pick him in the end.
Luckily, he didn't have to face this scenario because he was then cut from the show. However, the guy definitely gets bonus points for how heartfelt his goodbye to Jasmine sounded:
'You're in good hands right now. Those three guys are beauties and they're gonna take care of you,' he told a crying Jasmine. 'Thank you for this experience, journey. I wasn't expecting to meet you. You're such a nice person, a wonderful human being you are.'
I mean, just repeat that in French and I'd be more than ready to give my Final Rose to Benoit.
In the first trailer for Bachelor Winter Games, you can see Benoit decked out in a red coat, saying, "Bachelor Winter Games, let the journey begin!"
There, you can check that saying off your Bachelor Bingo card now.
I'm so ready for Benoit to bring some of his French class to ABC and serve as some new eye candy. Fingers crossed that he doesn't disappoint!
The Bachelor Winter Games premiere on Feb. 13 at 8 p.m. ET on ABC.