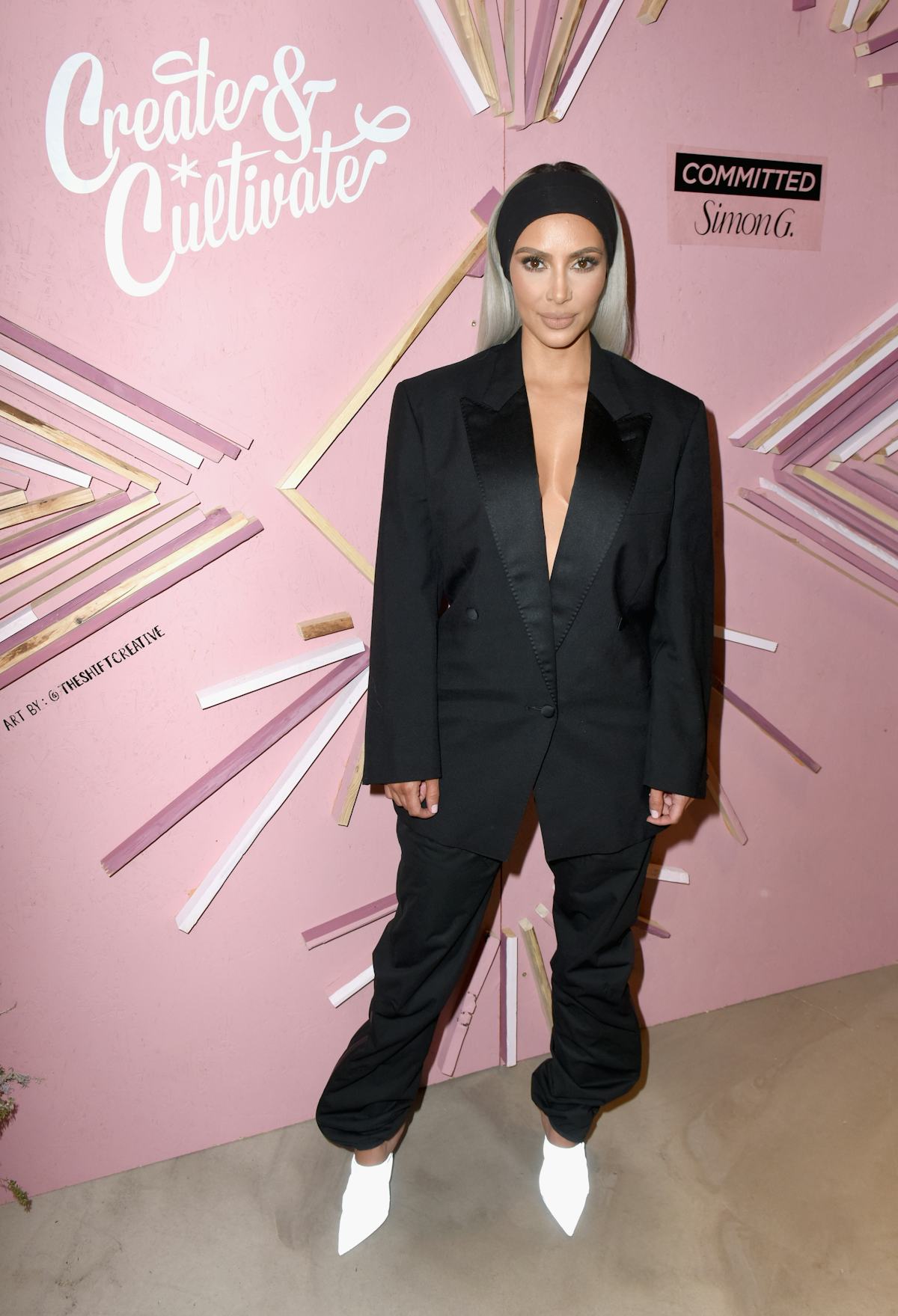 Kim K Revealed Who Chicago West Looks Like & The Details Are So Adorable
Vivien Killilea/Getty Images Entertainment/Getty Images
You guys! Kim Kardashian is finally giving us the 4-1-1 on who baby Chicago resembles and I am SO excited. I mean, the youngest of Kimye's offspring made her debut in kind of a big way, showing up around the eight-minute mark of the video Kylie Jenner posted to announce that Stormi had been born. And, like, way to upstage your own daughter's secret birth, KyKy! So yes, the world got to catch a glimpse of the sweet little babe and her full head of dark hair when she was a newborn. But who does Chicago West look like now? Looks like we kind of, sort of have an answer to that question, thanks to a tweet from Kardashian herself on Feb. 24!
"The sweetest! Best baby!" Keeks wrote on Twitter about her daughter. "She looks a bit like North and a tiny bit like Saint but definitely her own person!"
See what I mean by "kind of, sort of?" Her description is totally detailed, but also at the same time, somehow totally not. SO Kim!
Here's a look at Kim handing a-few-weeks-old Chicago over to Kylie, in case you missed it:
And here's Kim's super descriptive tweet:
Kardashian and Kanye welcomed Chicago via surrogate on January 15, and the Keeping Up With the Kardashians star announced the arrival on her app the next day.
"Kanye and I are happy to announce the arrival of our healthy, beautiful baby girl," she wrote. "We are incredibly grateful to our surrogate who made our dreams come true with the greatest gift one could give and to our wonderful doctors and nurses for their special care. North and Saint are especially thrilled to welcome their baby sister."
We're glad Kim's first two babies are on board with the idea of her having a third kid around. After all, let's not forget how jealous Big sis North was when little brother Saint first came into the picture. Looks like Kim's not taking any chances this time around, because she seems to be handling the baby's arrival in a pretty low-key way, starting with the fact that Chicago is sleeping in a hand-me-down crib. You heard me.
"I'm pretty much using the same crib and everything that I had for our other kids," Kardashian told Architectural Digest. "We have a Vetro Lucite crib and we have a Royère bed in there and a really fluffy cream rug."
I have no idea what she just said right there, but second hand or not, it def doesn't sound cheap!
"We had a changing table made," she continued. "I have a glider with an ottoman for feeding. With the first baby, I had a rocking chair, and I just love a glider so much more — you can move easier."
Meanwhile, on the Feb. 25, 2018, episode of KUWTK, Kardashian copped to having a little buyer's remorse about using a surrogate, because she was worried she would have a harder time bonding with Chicago since she didn't carry her herself.
"Even though I will appreciate not having to gain the weight and then lose the weight … I so would have rather have done it on my own," Kim told Khloé. "I just hope I care as much. … Everyone says it's like no different."
Aw, Kim! I totally get why you were worried. But now that Chicago's here, I bet all your fears have been washed away and you love her just the same! Now, if you could be so kind as to post a picture of your sweet little munchkin, I'd truly appreciate it. You know, when you're ready.
And until then, at least we have this:
It's real, and it's spectactular.