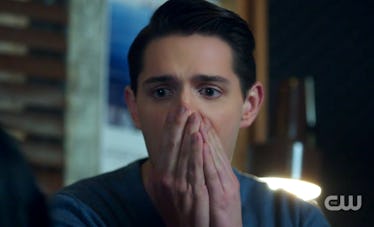 'Riverdale' Season 3 Will Kill Off A Main Character, According To This Tweet
CW
It's no secret that Riverdale loves its shocking twists and turns, but even though the dark teen drama is often threatening its main characters with death, it has yet to fully pull the trigger on anyone central to the series. But that could all change in Season 3. Riverdale showrunner Roberto Aguirre-Sacasa tweeted out a short description of the ninth episode of the new season, and it is causing fans to freak out and ask, who dies in Riverdale Season 3? Let's talk out this shocking new information.
Ahead of the Riverdale Season 3 premiere, showrunner Roberto Aguirre-Sacasa teased out the new season's upcoming mid-season finale and the episode following it, which looks like it is going to include a huge plot twist. Aguirre-Sacasa revealed that Episode 8, called "Outbreak," will be the mid-season finale, but the big shock came when he teased that not all of the show's main characters would make it to Episode 9. Under a photo of the title page of the episode's script, Aguirre-Sacasa wrote: "Life goes on (for MOST of our series regulars) in Episode #309 of Riverdale," followed by three emojis: dice, a boxing glove, and a skull and crossbones.
Umm, "most of"!? Obviously, the ominous tweet has fans freaking out that a main character will die in the Season 3 mid-season finale.
Killing a main character would be a huge move for Riverdale. Although the show is constantly putting its characters in peril, it has only killed off minor side characters so far. The first season revolved around the murder of Cheryl Blossom's twin brother Jason, which took place before the events of the series, and ended with the apparent suicide of her father Clifford Blossom (although some fan theories still think Cliff is alive and undercover). And although a serial killer was on the loose throughout Season 2, the only notable deaths were predatory teacher Ms. Grundy and the rarely seen classmate Midge Klump.
So, if a main character really is going down in the first half of Season 3, then who could it be? We do not really have a lot to go off of, but it is notable that Roberto Aguirre-Sacasa used the term "series regulars" in reference to the possibly offed character. This phrase had some fans flashing back to an announcement over the summer, that recurring characters Toni Topaz and Reggie Mantle will be promoted to series regulars in Season 3. Could this promotion turn out to be short-lived for one of these two new regulars?
Some other grim possibilities could include fan-favorite main characters who are tangential to the show's core four, such as Josie McCoy or Kevin Keller. Technically, Cheryl Blossom also falls into this category, but she has been developed so much that she now feels as essential to the show as Archie, Betty, Veronica, and Jughead. But what I am thinking is most likely is that the killed-off character will be one of the parents: Fred Andrews, F.P. Jones, Alice Cooper, Hiram Lodge, or Hermione Lodge. In my mind, one of the Lodge parents makes the most sense, but then again, we have no idea where the first eight episodes of Season 3 will take us.
Riverdale Season 3 will premiere on Wednesday, Oct. 10 on the CW.