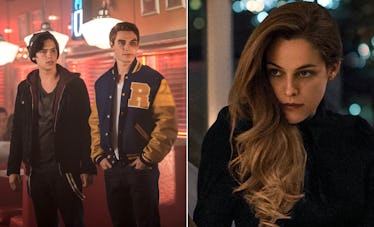 'Riverdale' Season 3 Adds A Flirtatious New "Farm Girl" Character, So Watch Out B & V
CW, Starz
We have already heard a lot about the mysterious new drama that will threaten the town of Riverdale when the CW's dark teen show returns for its third season, but there has not been that many updates on what will go on with the show's central relationships. Riverdale fans have been pulling for Bughead, Varchie, or even Barchie for a couple seasons now, but a newly added character might threaten all of that. So, who is Laurie Lake on Riverdale Season 3, and why are fans so concerned about her arrival in the new season? Let's get into everything you need to know about the new girl in town.
Over the weekend, Vulture confirmed that actress Riley Keough will appear in Riverdale Season 3 as Laurie Lake. Not too much is known about Keough's character in the new season, but the casting announcement did reveal that Laurie Lake is an "all-American farm girl" who brings Archie and Jughead into her home when they wander onto her property. Apparently, Laurie will initially get flirty with Archie and Jughead, but then the situation will somehow become very dangerous for the two boys. Hmmm, who knows what that could mean?
The casting news comes several months after Riley Keough tweeted that she was interested in joining the Riverdale cast. Keough has appeared in a number of major movies before, such as Magic Mike, Mad Max: Fury Road, and Logan Lucky, but the seductive role of Laurie Lake sounds like it will be more in line with her other TV role, as the high-end escort Christine Reade in The Girlfriend Experience. Keough's other claim to fame is that her grandfather is none other than Elvis Presley.
Like nearly all of the characters on Riverdale, Laurie Lake does have a precedent in the Archie Comics. The character first appeared in Wilbur Comics, which was a contemporary to the Archie stories that ran from 1944 to 1965. Most people saw the Archie and Wilbur characters as clones of one another, with Archie translating to Wilbur Wilkins and his girlfriend Betty translating to Wilbur's popular, blonde girlfriend Laurie Lake.
It is not clear how much Riverdale might run with this fact that Laurie Lake is often compared to Betty Cooper, but it could definitely tie into the tease that Laurie will try to seduce Archie and Jughead. The other important word to note in the new casting announcement is "farm." Earlier in Season 2, Polly Cooper ran off to a commune known as The Farm to give birth to and raise her twins Juniper and Dagwood, and then at the end of the season, Polly tells her mom that this Farm is making its way to Riverdale. The cast and crew have already let us know that this Farm is a mysterious cult that will be at the center of Riverdale Season 3, so seeing Laurie Lake described as a farm girl could be a hint that she may be involved in this cult.
Season 3 of Riverdale will premiere on the CW on Wednesday, Oct. 10.