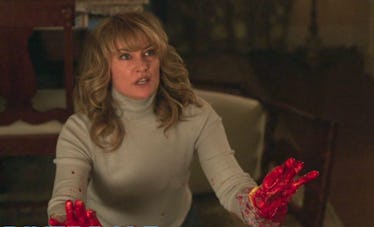 This 'Riverdale' Season 3 Theory Could Mean Alice's Actual Son Will Show Up
CW
The Riverdale teens have solved Jason Blossom's murder and captured the Black Hood, but the third season will put them up against the most ominous villain yet. Showrunner Roberto Aguirre-Sacasa has mentioned a mysterious figure that goes by the Gargoyle King, and fans have picked up on a new role called the Garoyle Knight that will figure into Season 3 somehow, but how? Who is the Gargoyle Knight in Riverdale Season 3 and how does he relate to this enigmatic Gargoyle King villain? Theories are already bubbling up about these strange new characters, so let's break down everything we know.
The first we heard of this mysterious Gargoyle King character was at the beginning of September, when showrunner Roberto Aguirre-Sacasa tweeted out a broody, sepia-toned poster for Season 3 of Riverdale. In his tweet, he warned "beware the #gargoyleking," which obviously sent Riverdale fans spiraling. With a name like Gargoyle King and a warning to beware him, it definitely sounds like we have a new villain on our hands. But we don't know anything about this guy... or do we? It kind of seems like this Gargoyle King may be a supernatural monster that we have seen flashes of in teasers for the new season.
Notice those red, branch-like antlers sticking up from the bottom of the Riverdale poster that Roberto Aguirre-Sacasa tweeted out — could that be the Gargoyle King that he is warning us about in his tweet? It seems to connect, since we have seen this woodsy, antler monster before. In one of the teaser trailers for Season 3, Betty seems to fall into a trance and see a dark monster covered in bones and branches.
Sounds like this guy has a name now: the Gargoyle King. It also seems like he may be somehow related to the new cult that is coming to town in Season 3, which we know will ensnare Betty's mom, Alice, and her sister, Polly.
But there is even more to this Gargoyle King mystery. Fans also sleuthed that Riverdale's IMDb page lists a new character named Gargoyle Knight, played by actor James Challis. Obviously, that name is very eye-catching, especially since Roberto Aguirre-Sacasa already revealed the Gargoyle King. This Gargoyle Knight must be involved with the Gargoyle King somehow, right? Here is where all the theories come into play.
The two theories from Reddit that seem to make the most sense posit that this Gargoyle Knight is either one of the leaders of the new cult, or he could be the actual Charles Smith (not the fake Chic who appeared in Season 2).
The first theory is that James Challis will be playing Edgar Evernever, who is the leader of the cult that will enlist Polly and Alice. Is the Gargoyle King really is some monster that the cult worships or summons, then it would make sense for the cult's leader to go by Gargoyle Knight.
The other theory would be even more shocking — this Gargoyle Knight could be the real Charles Smith, Alice Cooper and FP Jones' son. Obviously, James Challis kind of looks like a mix of Cooper and Jones, which spurs this theory on, and although the fake Chic claimed to have killed Charles in Season 2, most fans think that he was not telling the truth. The theory is that Charles earned the name Gargoyle Knight because he is hiding out in the bell tower of the Ghoulies' church hideout, and/or he wears a mask to cover his face after Chic attacked him.
Be on the lookout for all things gargoyle when Riverdale Season 3 premieres on the CW on Oct. 10.