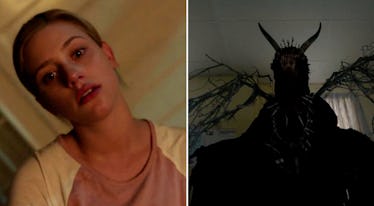 The 'Riverdale' Season 3 Sneak Peek Reveals The Town's Newest Villain
CW
The Riverdale crew may have exposed the Black Hood, but there is a completely new threat poised to terrorize the town in the upcoming third season. A newly released Riverdale Season 3 sneak peek reveal's the new villain, and it is without a doubt the scariest thing that Archie, Betty, Veronica, and Jughead have faced yet. Oh, and the new 30-second promo clip is also absolutely packed with shocking revelations about Season 3, so let's get right to it!
The most jaw-dropping part of the latest Riverdale Season 3 teaser trailer is a large, mysterious horned monster that seems to appear to Betty as she is passing out. The monster only pops up for a second in the clip, but it seems safe to assume that it is somehow tied to the cult that we know is coming to town in Season 3... especially since the next few frames of the teaser also tease the cult's arrival. We see Polly and Alice Cooper holding Polly's twins over a fire, as we saw in the first trailer, and we get a shot of Jughead discovering a cultish pyre of sticks and animal bones surrounded by candles. Riverdale has flirted the line with going supernatural before, but it looks like Season 3 will be when the show finally fully embraces the unexplainable.
Check out the new Riverdale Season 3 teaser trailer, and then we can break down all the other stuff that pops up in the new clips:
Yeah, that horned monster is not the only shocking thing to appear in the new sneak peek! Did you see Archie's new ink? We get a quick shot of Archie sporting a new tattoo on his right shoulder: the Southside Serpents' symbol. I guess Cheryl Blossom won't be the only newbie Serpent at the beginning of Season 3.
We also get a glimpse of Veronica standing up to the other big villain of Season 3, her father Hiram Lodge. And although Archie clearly seems to make it out of prison, his issues with law enforcement won't be over, as we see a team of cops attack him on a baseball diamond.
But it is not all just dangerous drama — the new teaser also reveals some steamy new romances that will finally be fully realized in Season 3. For one, it looks like Moose and Kevin will go public with their secret relationship at long last, as the video shows the two kissing in the middle of Riverdale High's hallway. And the other big couple is Alice and F.P. — dubbed Falice by fans — whom we see rolling around in the sheets together after hinting at their chemistry for the past two seasons. The shot also reveals that Alice's old Serpents tattoo is still there, hidden on her upper thigh.
Cults, Serpents, mysterious monsters, and new romances: It sure looks like we are in for a wild ride this season. Riverdale Season 3 will premiere on Wednesday, Oct. 10 at 8 p.m. on the CW.