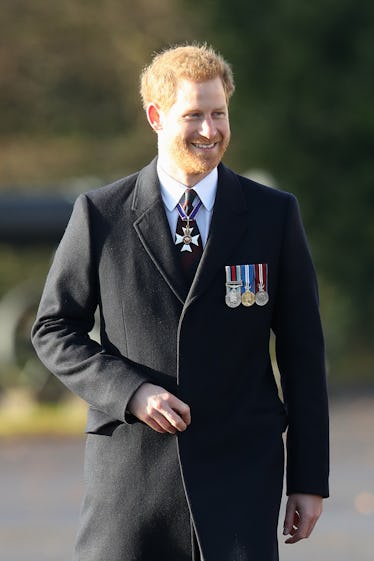 Here's Everyone Prince Harry Dated Before Proposing To Meghan Markle
Chris Jackson/Getty Images Entertainment/Getty Images
While we all know that Prince Harry is off the market, newly engaged to the beautiful Meghan Markle, we can't forget that Prince Harry is young, hot, and royal, and has dated some truly gorgeous women in his past. It's obvious that Prince Harry and Meghan Markle are serious #couplegoals, but that doesn't mean that Prince Harry didn't date others who were smart, successful, and, let's be real, ridiculously good-looking. So, who did Prince Harry date before Meghan Markle? So glad you asked.
And yes, while the world forever changed on Nov. 27 when we found out that Prince Harry proposed to Meghan Markle, we can still live just a little bit in the past, much like we do with our exes, right? Right.
Do you have a moment? You do? OK, great. Because I'm about to open your mind to a world before Miss Markle and Prince Harry ever met, where Prince Harry was single and ready to mingle (and had every woman in the world hoping that maybe, just maybe, Prince Harry would find love with a "normal" girl). There were girls who were totally ~boyfriend and girlfriend~ with Prince Harry, and there are others who were... less so, not exactly having a "relationship" confirmed. But they're still going to be in this post, because I'm the captain of this ship and I do what I want:
So let's go back to a simpler time, when it was 2003 – an era where Britney Spears and Madonna locked lips at the VMAs and iPhones weren't even a thing yet – and work our way to present-day.
2003: Natalie Pinkham
Although Prince Harry and F1 presenter Natalie Pinkham reportedly met for the first time in 1999, it wasn't until 2003 when rumors that the pair were dating started circulating. And, while the two never confirmed a relationship, it's believed that long after the rumors faded, a friendship between the two remained.
2004: Chelsy Davy
By far the longest relationship Prince Harry ever had in front of the public eye, he and lawyer-slash-jewelry designer Chelsy Davy had an on-again, off-again, relationship up until 2010. Davy opened up to The Times, talking about how her relationship with Prince Harry was "crazy" because of all of the attention she received. She said,
It was so full-on: crazy and scary and uncomfortable. I found it very difficult when it was bad. I couldn't cope ... I was trying to be a normal kid and it was horrible ... It was nuts, that's also why I wanted to go back to Africa. Now it's calm, it's fine.
In a later interview with The Times, she revealed that she also believed that she and Prince Harry would always remain close. She said,
I think we will always be good friends.
D'aww. Anyone else think that Harry is basically Prince Charming?
2009: Astrid Harbord
So let's put this in the "fling" category: Prince Harry was very briefly linked to Astrid Harbord, a friend of Kate Middlton's and the two were seen clubbing together and – gasp – heading back to Prince Harry's flat after.
I mean, they definitely were just heading back to his place for a spot of tea, right?
Riiiight.
2009: Caroline Flack
X Factor host Caroline Flack and Prince Harry had a brief relationship in 2009, but broke up once their relationship was revealed to the public. In an interview with The Sun, she spoke about how being in the spotlight caused their relationship to dissolve. She said,
Once the story got out, that was it. We had to stop seeing each other. I was no longer Caroline Flack, TV presenter, I was Caroline Flack, Prince Harry's bit of rough,
2010: Camilla Romestrand
Badass rockstar Camilla Romestrand reportedly dated Harry briefly, and, according to CBS, was served breakfast in bed by the Prince (gasp). Although their relationship was not confirmed, it's still kind of cool to think of Prince Harry serving up a mean stack of pancakes to his lady.
2011: Florence Brudnell-Bruce
Actress and model Florence Brudenell-Bruce was linked to the Prince, with reports saying that the two were having "secret trysts" (how dare they?), but, once again, there was no real confirmation from either party. A Palace spokesman did comment to the U.K. tabloids, though, saying, "We don't comment on the Prince's personal life."
It was a very "But that's none of my business" comment, but hey, it's better than nothing, right?
2012: Cressida Bonas
Prince Harry and actress Cressida Bonas dated until 2014 – which is definitely one of Harry's longest past relationships – but ultimately broke things off when Bonas revealed that she was frustrated with the public's view of their relationship. In an interview with BBC Radio, she said,
Especially in this country, I find that people are very quick to put you in a box or put you in a corner and think, 'Oh well, you're that, so you must be that,' ... It's incredibly frustrating, especially in the industry that I'm in. But you know, it is the way it is... It's making a stand and saying, 'Actually no, this is who I am, and this is what I want to do.'
Girl power. You do you, Cressida.
Which brings us to 2016: Meghan Markle
Meghan Markle and Prince Harry started dating in 2016, and things got real serious real fast. After introducing Markle to Queen Elizabeth in September, Prince Harry got down on one knee and proposed while the couple was having a relaxing night in, trying to roast a chicken.
Men, take note: if you want your lady to say "yes," just make sure your proposal involves food. That's literally all you need to do.
So there you have it! Prince Harry's timeline of previous relationships shows that all the women in his past are independent and intelligent, but I think he found himself a perfect match with Meghan Markle.