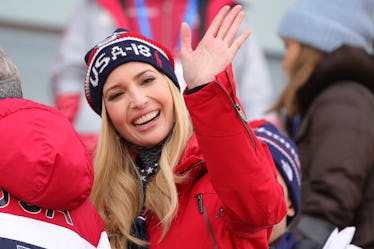 Ivanka Trump Used To Date This '00s Sitcom Star & I'm So Confused
Andreas Rentz/Getty Images Sport/Getty Images
It's always interesting to take a trip down celebrity memory lane and find out who's dated who. Mostly because Hollywood is a pretty small town and you're bound to find a surprising former couple or two. So when I started looking into who Ivanka Trump's dating history I found some pretty unexpected exes — and one in particular was super surprising. So who did Ivanka Trump date before she married Jared Kushner? It's a pretty interesting list, and I have some questions.
Trump and Kushner have been married for eight years now, but that doesn't mean that the first daughter doesn't have some so-called skeletons in her closet. Prior to getting hitched, Trump was romantically linked to Topher Grace. Yep, Ivanka Trump and Eric Forman were a thing. According to People, back in 2006 the former That 70's Show actor celebrated Trump's 25th birthday with her in Las Vegas. But other than that, we don't have much more information as to how they met or how long their apparent "thing" lasted. But the fact that these two were actually spotted together is pretty hilarious if you ask me. How? Why? I have so many questions and sadly I don't think they'll get answered.
But that's not all! Trump also briefly dated cyclist Lance Armstrong, back when she was 24 and he was 35 (before her rumored romance with Grace). According to People, Trump and Armstrong went on "several dates," but nothing serious ever flourished. Trump said in a statement to the magazine in 2006, "I have tremendous respect for Lance and all he has accomplished. That said, we are just friends." Considering that Armstrong's life essentially imploded after he admitted to Oprah Winfrey in 2013 that he cheated to win his seven consecutive Tour de France victories by using drugs, I can safely say that Trump dodged a bullet here.
These were the only true standout names off of Trump's dating track record list. Back in college she dated film producer James "Bingo" Gubelmann for close to four years. The pair broke up in 2005, which coincidentally is the same year Trump is reported to have met her now-husband.
We also learned a couple of months ago that Quincy Jones apparently dated Trump back in the day. Well — that's according to Jones, so I don't think we'll ever know for sure if this is true. In an interview with Vulture, Jones shared his thoughts about President Donald Trump and decided to throw in that he once dated his daughter. Jones said, "Limited mentally — a megalomaniac, narcissistic. I can't stand him. I used to date Ivanka, you know." When asked if it that were really true, Jones claimed that Trump did in fact want to have dinner with him. "She's a fine motherf*cker," Jones said, "She had the most beautiful legs I ever saw in my life. Wrong father, though." If you haven't read that interview I highly recommend that you do. It's very, very entertaining.
That last tidbit might not actually be 100% reliable, but I am still fully surprised to find out that Trump and Eric Forman were a thing. I definitely did not see that coming when I began my investigative research.
Since Trump is officially off the market we won't be learning about new romantic partners. But there are other Trump kids that aren't married yet to gossip about. Do we know who Tiffany Trump is dating? Who might Donald Trump Jr. date now that his marriage with Vanessa is ending? Who might Barron wind up dating once he reaches that age? It's all up in the air.