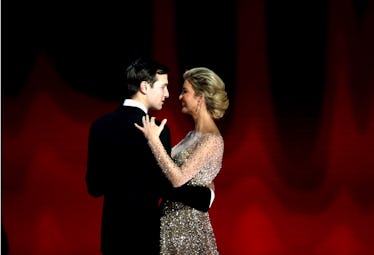 A Complete Timeline Of Ivanka Trump & Jared Kushner's Relationship
Rob Carr/Getty Images News/Getty Images
Ah, love. So fickle. So heart-wrenching. That is, if you believe television and movies. But for successful couples, like, oh, say White House aides Ivanka Trump and Jared Kushner, it's more like, I dunno, osso bucco. It takes time and energy, sure, but when properly executed, it's comforting and lovely and well worth the wait. The controversial, oftentimes quiet couple have been together for years, and the timeline of Ivanka Trump and Jared Kushner's relationship is pretty un-extraordinary. But, hey, for a long-term relationship to work, that's usually a good thing.
Let me paint you a picture of the long and banal history of Trump and Kushner. J-vanka, if you will, though I'd rather you didn't.
First, I must take you back to a world in which Donald Trump was just a reality show hack. Trump was just his tall, blonde daughter, and Kushner was a scrappy kid in New York running the family real estate empire while his father was in federal prison for tax evasion and witness tampering.
2005: It begins.
In 2005, according to The New Yorker, a real estate broker introduced Kushner and Trump at a networking lunch, thinking the two — who were both involved in their respective fathers' real estate businesses — would like to do deals together. Yeah, they did.
Moving on: by 2007, the public started to take notice of the fact that the two extremely tall people were hanging out together. According to Cosmopolitan, once New York tabloids caught wind of the couple, they were dubbed J-Vanka, which, can we please not? The couple denied being together despite being caught making out at a bowling alley (I know).
But anyways, eventually the jig was up, and they copped to being in a loving relationship, which they fully embraced with PDA 'n' stuff. Additionally, according to New York Magazine's The Cut, Kushner met Trump's mom, the incomparable Ivana Trump, around the same time they started to embrace public appearances.
Seems like things were heating up in a serious way.
2008: What's this? Trouble in paradise?
But, uh oh! In 2008, the lovebirds broke up. Such promise, such potential, wasted.
But, in all seriousness, their break up was over something sincerely important: Kushner, who was raised in the Modern Orthodox Jewish tradition, was reportedly being pressured by his parents to marry a Jewish woman. (Further, as Kushner was raised in a tight-knit Orthodox community, it was also important to him.) Kushner's mother, Seryl, even had a hand in the break-up, according to Esquire.
Also 2008: Just kidding! It's all love.
Don't fret, though, because love will overcome. Especially when you're friends with other insanely rich people.
After Wendi Deng (at the time, Wendi Murdoch) caught wind of the misery their break-up caused both Trump and Kushner, she played matchmaker. Per Us Weekly, she called Kushner and invited him to ~Rupert's~ yacht, all casual, y'know, because he'd been working so hard.
When he showed up, Trump was there. Trickery! Deceit! But all in the name of love. And thanks to Deng, the couple got back to together.
2009: Wedding bells.
Before Kushner proposed, Trump agreed to convert to Judaism. Kushner officially popped the question in July 2009, after Trump's conversion was complete. And according to The New Yorker, Kushner gave Trump a 5.22 carat diamond engagement ring, set by, who else, Ivanka Trump Fine Jewelry.
But, per Esquire, it wasn't all smooth sailing: Kushner's father, Charles (who was out of prison by the time they got engaged) reportedly "remained skeptical" and put Trump through the ringer, making her "conversion as testing as it could be."
But Trump reportedly took her conversion very seriously and the couple got married with the full support of both sides of the family. I will give you one guess as to where they tied the knot on Oct. 25, 2009.
If you guessed Trump National Golf Club in Bedminster, New Jersey, you'd be right.
It's called synergy, people.
2018: Eight years and three kids later, still going strong.
Over a decade since they first got together, the pair are still pretty solid. Trump and Kushner celebrated their eighth wedding anniversary back in October (possibly with the help of a very terrible playlist), so by all measures, they're going strong. After all, they have three kids together, and their body language weaves a compelling tale of a fiercely loyal couple.
Like your mom says, there's a lid for every pot, right?