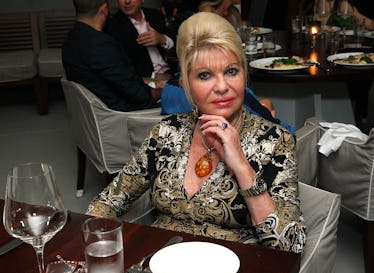 Ivanka Trump Had A "Big Part In Donald's Victory" According To Ivana
Astrid Stawiarz/Getty Images Entertainment/Getty Images
First ex-wife of President Donald Trump, mother of Trumps Ivanka, Don Jr., and Eric, and recently published memoirist Ivana Trump is back, baby. She has been making the rounds on the media circuit to promote her new book Raising Trump, a book about, you guessed it, what it was like to be Donald Trump's wife for 15 years and to raise the three eldest Trump children. And among the assertions she has made in various interviews and the book itself, Ivana Trump credited daughter Ivanka with President Trump's victory.
Ivana wrote, according to Quartz,
I think Ivanka played a big part in Donald's victory. Voters looked at her and thought, I like her. I trust her. She loves her father, so he can't be that bad.
I mean, of course she believes this. She is Ivanka's mother, after all. My mom thinks I'm the best writer in the world, though that is demonstrably false. (Editor's note: We're with Lisa's mom.)
It's no secret that First Daughter and Special Adviser to the President Ivanka Trump played an active role in her bombastic, mercurial father's path to the White House. She reportedly played a role in getting Trump to apologize for some of his more egregious off-the-cuff statements: according to Business Insider, she urged him to walk back some of his more xenophobic, racially-tinged rhetoric on immigration; she also pushed him to apologize for his "grab them by the p*ssy" comments, though he did not apologize in full, reportedly upsetting her greatly.
Ivanka also stumped for her father — including a speech at the Republican National Convention that painted her father as a, uh, feminist. She did interviews (including an interview she ended early due to the critical nature of the questions), and reportedly "heavily influenced" several of his policy proposals, including parental leave.
Where the slapdash, angry campaign seemed somewhat cool and collected, you could see Ivanka.
Of course, this sentiment is nothing new. After Trump's surprising November 2016 victory, several outlets, including The Sun, credited Ivanka with helping her father become president. She was, according to the English publication, "something of an icon to the female voters who helped dad Donald clinch the Presidency." Which, sure.
So perhaps Trump's assertion — that her ex-husband won the White House due to their daughter's savvy — isn't just parental pride.
But Trump also had some predictions for the future: that Ivanka would be the first female — and Jewish — President of the United States in the future, in part due to her moderating influence on her father. Trump wrote,
Who knows? One day, she might be the first female — and Jewish — POTUS.
Though, true to form for this family, Trump congratulated herself for the, uh, work Ivanka put into President Trump's campaign. She wrote,
I believe the credit for raising such great kids belongs to me. I was in charge of raising our children before our divorce, and I had sole custody of them after the split. I made the decisions about their education, activities, travel, child care, and allowances. When each one finished college, I said to my ex-husband, 'Here is the finished product. Now it's your turn.'
By Trump's logic, then, because Ivanka put President Trump in office, we have Ivana to thank for President Trump and a possible President Ivanka Trump.
But that's not the only self-congratulatory part of Ivana's book. She also called herself the first lady in an interview with ABC — a comment that ruffled actual First Lady Melania Trump's feathers.
The usually tight-lipped First Lady released a statement through her communications director, stating, "There is clearly no substance to this statement from an ex, this is unfortunately only attention-seeking and self-serving noise."
Yeesh.