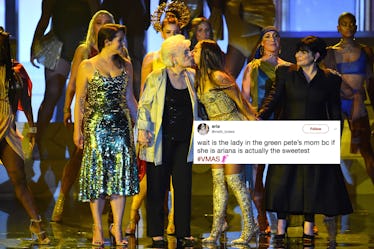 Fans Mistakenly Thought Ariana Grande Brought Pete Davidson's Mom On Stage At The VMAs
Theo Wargo/Getty Images Entertainment/Getty Images/Twitter
Ariana Grande performed the eternal bop "God Is A Woman" for the first time live at the MTV Video Music Awards on Monday, Aug. 20, and if you don't believe God is a woman after that performance, I don't know what else will convince you. The performance consisted of Grande recreating the Last Supper with all women and then dancing like the world depended on it, then she brought three women out on stage at the end. Who did Ariana Grande bring out on stage at the VMAs? We know for sure that two of the women were Grande's mother and grandmother, Joan and Marjorie, but the third woman was a new face.
Given that Pete Davidson was in the audience (the VMAs marked his and Grande's first red carpet appearance together), some people on Twitter thought the third woman Grande brought on stage was Pete Davidson's mother or sister. But Grande's brother, Frankie Grande, cleared things up on his Instagram story: the third woman is their cousin.
The entire "God Is A Woman" performance was incredible (and Grande's perfect vocals didn't miss a beat throughout the heavily choreographed number), but bringing out the women of her family really put the cherry on top of the whole thing.
At the end of the performance, when the three women were escorted onto the Radio City stage by Grande's dancers, fans were all like, "Mama Davidson?!"
But nope, it was Ariana and Frankie Grande's cousin, according to Frankie's Instagram story during the show. Thanks for clearing all of that up, Frankie!
Pete Davidson was front and center in the audience for Grande's performance, though.
This was Pete Davidson and Frankie Grande's reaction to Ariana Grande performing "God Is A Woman" and bringing her family out on stage:
Blurry, but supportive!
The 2018 VMAs marked Ariana Grande and Pete Davidson's first red carpet appearance together, and the photos of them at the VMAs are heartwarming as hell.
L is for the way you look at me!!
Issa engaged couple.
Guys.
OK, bye.
OK, OK, OK, here's one last thing. I promise.
RIP MY HEART OUT, WHY DON'T YOU?!
Grande was one of the best parts of the VMAs this year, but not just because of her performance and win for "No Tears Left To Cry." Nope, she became one of the best memes of the night.
Squinting Ariana Grande is my new favorite thing.
I would tell her to get contacts, but then my new favorite thing would end, so I'm not going to do that.
Grande won the VMA for Best Pop Video for "No Tears Left To Cry" — the first song she released after the Manchester attack in May 2017.
"I'm so grateful, first of all, to my fans," she said during her short and sweet acceptance speech. "I love you guys so much. My friends on the internet, I love you." She continued,
You're the funniest, most supportive people. I love you so much. Thank you for all your dedication and for showing me so much love. And Sweetener, thank you for receiving it so warmly and being so kind about it. Thank you, guys, I love you so much.
Awww, Ari! You're soooo welcome! She then listed all of the people she works with whom she wanted to thank before closing out the speech with, "Pete Davidson, thanks for existing. Love you. Bye!" If you don't stan her by now, what you doin'?