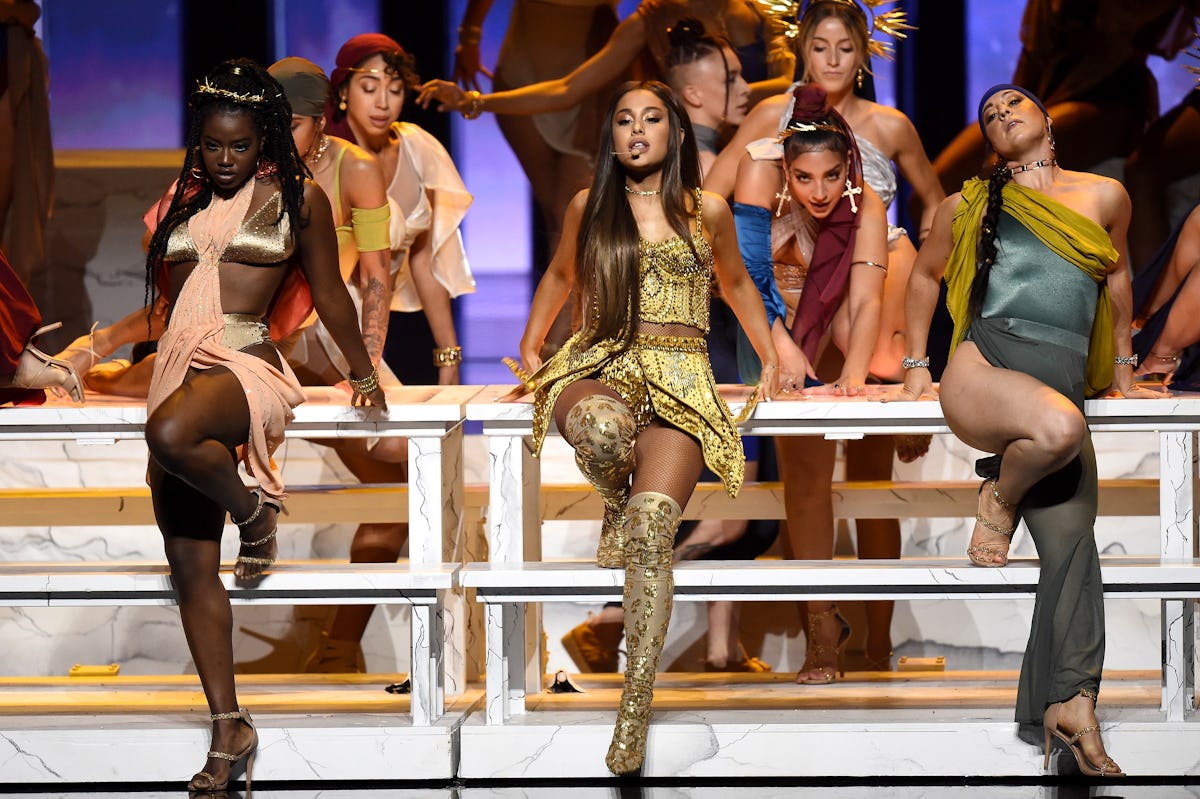 Ariana Grande Fans Pointed Out This Major Detail In Her VMAs Performance
Michael Loccisano/Getty Images Entertainment/Getty Images
All hail queen Ariana Grande, because the pop superstar just keeps on showing the world how ridiculously talented she is. Ariana nailed performing her single "God Is a Woman" at the VMAs. The show was not only impressive, it was otherworldly — the awe-inspiring spectacle featured an all-female dance crew in a scene reminiscent of one thing... Leonardo Di Vinci's "The Last Supper." And these tweets about Ariana Grande's 2018 VMAs performance show that fans took notice. Plus, her beloved Nonna showed up on stage with some other familiar VIPs, including her mom and a family cousin. Is this real life?!
"God Is a Woman" is the second single release off of Sweetener, Ariana's hotly anticipated fourth studio album, which debuted just a few days ago on Aug. 17. The seductive song — a celebration of female empowerment and sexuality — is one of the standout tracks off her latest (not to mention, one of her beloved Nonna's and fiancé Pete Davidson's favorites) album. Since its release, fans have been soaking up every last lyric.
Of course, Ari loyalists couldn't help but express their feelings on her big VMAs debut via Twitter.
The ethereal video for "God Is A Woman" is a cosmic trip brimming with artistic imagery (Georgia O'Keefe and Michaelangelo are both more overt references) that shows Ariana channeling her inner and outer goddess and even features Madonna's voice — no big deal.
Leading up to Sweetener's drop, Ariana has been actively teasing and promoting new music on social media. She thanked her fans and followers for support on Friday, Aug. 17, via Instagram, writing: "gonna to cry all day lol. thank you for your warmth. thank you for listening and hearing me. happy sweetener day and i love you."
Grande rose to mega-fame on Nickelodeon's Victorious in 2009, and the subsequent Victorious/iCarly spinoff Sam & Cat. She unveiled her debut album,Yours Truly, in 2013 and has gone on to release 2014's My Everything and 2016's Dangerous Woman prior to this year's Sweetener. A vocalist whose chops have been compared to octave-mastering talents like Mariah Carey, Grande has been nominated for four Grammys so far. Known for pop hits like "Break Free" and "Be Alright," Ariana is evolving creatively — but she's still churning out bangers.
She discussed her recent music with Fader in May, saying,
I've always just been like a shiny, singing, 5-6-7-8, sexy-dance…sexy thing. But now it's like, 'OK … issa bop — but issa message. Issa bop but also has chunks of my soul in it. Here you go. Also, I cried 10 hundred times in the session writing it for you. Here is my bleeding heart, and here is a trap beat behind it.' There's definitely some crying-on-the-dancefloor stuff on this one.
Grande is one of the leading nominees at Monday, Aug. 19's VMAs. She's up for five nods, including major categories like Video of the Year (for "No Tears Left to Cry") and Artist of the Year. She already picked up the win for Best Pop Video.
Moonperson aside, Ariana Grande continues to be one of the most exciting pop artists around.