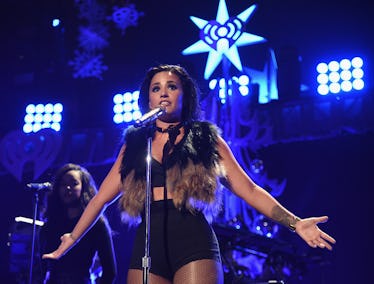 Demi Lovato Has Two Sisters & They Seriously Look Just Like Her – PHOTOS
Jamie McCarthy/Getty Images Entertainment/Getty Images
Demi Lovato gets plenty of time in the spotlight, but she also has two sisters who have had their own brushes with fame. Who are Demi Lovato's sisters, Madison De La Garza and Dallas Lovato? The Lovato sisters might not make headlines as much as Demi, but they're definitely talented women as well.
You might recall seeing Madison when she co-starred on Desperate Housewives, playing Juanita Solis (Eva Longoria's character's daughter) and also played a younger version of Demi's character on an episode of Sonny With a Chance.
Dallas is also an actress, who also appeared on an episode of Sonny With a Chance and has had roles in movies as well as lent her voice to many animated films.
In the new documentary, Demi Lovato: Simply Complicated, her mom and Dallas comment on Demi's early glimmer of talent, explaining: "She was five years old. I started to realize that Demi was gifted ... not human, when it came to her voice."
Dallas and Madison both make appearances in Simply Complicated, with Madison explaining Demi's rise to fame, noting:
I just remember a lot of auditions and a lot of car rides. I have so many memories of Demi getting a phone call and then not getting the job. We would be really upset for a few days and then one day...
That day? Oh yes, when Demi booked Barney!
Check out Demi with Madison and Dallas in some sweet photos:
These then and now pics are everything:
Or how about this super cute throwback?
Let's throw it back a little further!
Another pic of the sisters together, all glammed up!
In the documentary, her sisters also discuss some of the pressure that Demi faced during her Disney days, with Dallas noting, "that lifestyle's really crazy" for a girl that young, with Madison adding there were "so many more expectations put on her than a normal 15, 16 year old girl would have."
During a recent appearance on The Jonathan Ross Show, Demi explained how she had to have some tough love to achieve sobriety, which included not seeing her sister Madison while she was getting clean.
"There were a few (interventions by family and friends) but the final one, everyone was like, 'We are no longer going to leave, we are leaving,'" she explained, adding, "That was the moment when I thought, 'OK, I really need to get help and get sober.'"
She continued: "One of the main reasons of getting sober was so that I could be around my little sister because my mom and dad [said I couldn't be around her] if I was doing stuff. I got the help I needed and now I co-own a treatment center."
In a 2015 interview with Seventeen, Madison explained her relationship with Demi, noting:
I think when people say they wish Demi Lovato was their sister, they don't realize how hard it is to be related to someone who's constantly away on tour. But she's good at making time for me. We text constantly, and whenever she sees a funny tweet, she'll screenshot it and send it to our family group message (which includes our mom and our sister, Dallas, 27). My phone is constantly going off just from that. When Demi is home, our relationship is just like any sisters'. We get fro-yo and watch the ID channel — we're obsessed — and we talk about anything and everything. I know I can trust her with it all.
Lovato's fans will be able to learn more about her family when her mother, Dianna De La Garza releases the book, Falling With Wings: A Mother's Story. It hits shelves in March 2018.
Check out the entire Gen Why series and other videos on Facebook and the Bustle app across Apple TV, Roku, and Amazon Fire TV.