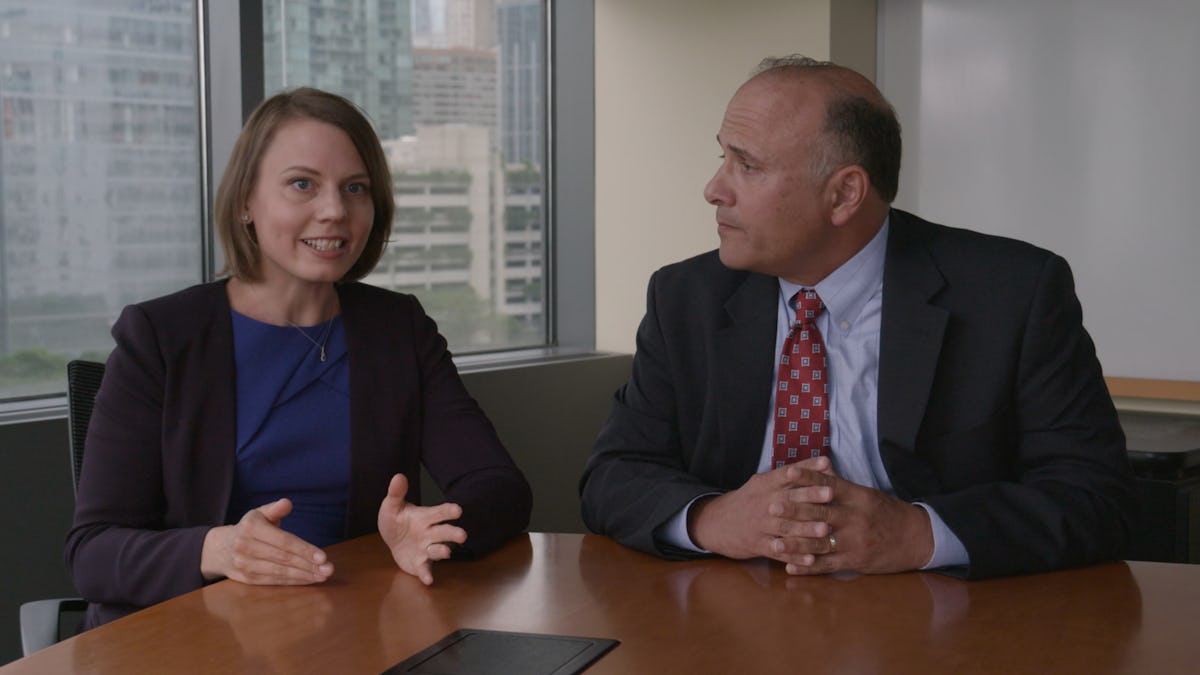 Here's What Fans Should Know About Brendan Dassey In 'Making A Murderer' Season 2
Netflix
Anyone who watched Making a Murderer's first season probably remembers Brendan Dassey's story. While exonerated criminal-turned-convicted-murderer Steven Avery was at the center of the documentary, his teenage nephew, Brendan, was also a major subject. The series chronicled the then-16-year-old as he was interrogated, went on trial, and was subsequently convicted of being party to first-degree intentional homicide, mutilation of a corpse, and first-degree sexual assault in 2007. Dassey maintains he is innocent of all of the charges. However, he was sentenced to life in prison with eligibility for parole in 2048. But a lot has gone on since then, and he has new representation. Who are Brendan Dassey's lawyers? Making a Murderer Part Two explores his post-conviction process and introduces attorneys Laura Nirider and Steven Drizin.
As Making a Murderer Season 2's first episode shows, Chicago-based Laura Nirider is the co-director of the Center on Wrongful Convictions of Youth at Northwestern Pritzker School of Law. According to the center's website, "Nirider represents individuals who were wrongfully convicted of crimes when they were children or teenagers."
"The truth is a really hard thing to cover up for too long," she notes, when discussing post-conviction cases. "Especially in a case like this where it's just sitting there. The truth is just sitting there on the interrogation tape. All you have to do is to persuade someone to take that close and careful look at it."
Co-founder of the Center on Wrongful Convictions of Youth and Dassey's other postconviction lawyer, Steven Drizin's bio states: "Professor Drizin's research interests involve the study of false confessions and his policy work focuses on supporting efforts around the country to require law enforcement agencies to electronically record custodial interrogations."
"There is no federal right not to be in prison if you're innocent, which is incredible but true," Nirider explains in the first episode of Making a Murderer Season 2. "Somebody like Brendan can't walk into federal court and say 'Here's evidence that I'm innocent, here's evidence that I didn't do this crime.' You can't even walk in and say 'Here's who did do the crime.'"
Bottom line? According to the lawyers, the way to get a new trial is to prove that the constitution was violated in Brendan's prosecution. As elucidated further in the documentary's second part, Nirider and Drizin claim that Brendan's confession was involuntary because the police coerced him. They also claim that his 6th amendment right to council was violated.
"It was like Brendan Dassey had no lawyer at all," Nirider says.
Making a Murderer Season 2's third episode goes into further depth about how difficult it is to get a federal court to review constitutional violations, especially since 1996's The Antiterrorism and Effective Death Penalty Act was enacted.
"Ninety-nine percent of federal habeas petitions are denied. Winning in federal court is the equivalent of a legal miracle," Drizin says.
As the documentary unfolds, Brendan's fate under Drizin and Nirider's council is further revealed.
Making a Murderer Season 2 is currently streaming on Netflix.