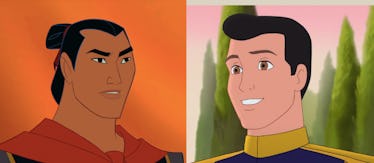 The Disney Prince You'll Live Happily Ever After With, Based On Your Zodiac Sign
As an adult woman who believes Disney led to her deeply mismanage her expectations in both love and life, I must deliver a few disclaimers before I embark on this super fun topic. First, marriage is societal construct, not a requirement for a happy life. Second, Disney princes are inherently flawed, less than feminist, and barely diverse/often guilty of cultural appropriation. Third, none of us are going to marry a Disney prince because they are animated drawings, so don't take these pairings too seriously.
That's actually a great rule of thumb when it comes to love and horoscopes in general: Don't overly stress your life partner's sign. Better to find a Cancer who is deeply in love with you and treats you like gold than wait around for a Pisces because you always thought you'd end up kissing a fish. (Or frog, see: The Princess and The Frog.)
But since we are talking Disney princes, let's have a little fun with your fictional love life. After refreshing my knowledge of the entire catalog of Disney films, I decided the best means of determining which signs match would match with which princes would be to assign each Disney prince a zodiac sign based on my personal opinion of their behavior in their respective films. (The Beast is definitely a Gemini.) Then, I matched them with compatible signs. Below, here's the definitive guide to which Disney prince you'd be happiest with, based on your sign.