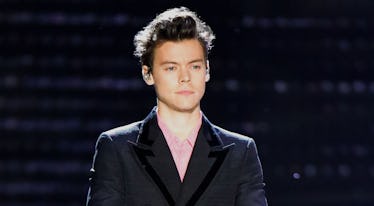 Harry Styles Is A No-Show At The Grammys & Fans Are Crying On Twitter
J. Lee/FilmMagic
It has been a massive year for Harry Styles: After One Direction's breakup, he broke out into his own solo career with an acclaimed album, performed on Saturday Night Live, and even made his acting debut in an Oscar-nominated movie. His part in the Chris Nolan war movie Dunkirk is securing him an invitation to the Oscars this year, but is Harry Styles at the 2018 Grammys? Although his debut solo album Harry Styles was widely acclaimed by music critics and commercially successful, Styles missed out on getting any Grammy nominations this year. So One Direction diehards were unsure whether or not they would get to see the former boy bander at the awards show... and it turned out that Styles did not show up at the Grammys this year.
As the red carpet began for the 2018 Grammy Awards, Directioners were quick to notice that Harry Styles was nowhere to be seen. The singer seems to have skipped out on the ceremony, following the Recording Academy snubbing his debut solo album in the nominations this year. Styles' fans shared their upset feelings about the singer not showing up at the ceremony online — check out some of the best tweets below:
Harry Styles may not have been present for the big show on Sunday night, but he actually was part of this year's Grammy celebration. The night before the awards, Styles was part of the MusiCares Person of the Year event held by the Recording Academy to honor Fleetwood Mac. Styles introduced Fleetwood Mac to the stage, and also performed their song "The Chain" alongside the iconic rock band. If you are bummed about not getting to see Harry Styles at the Grammys on Sunday night, you can check out the videos of him on stage with Fleetwood Mac the night before the big awards show:
Awww! At least we got to see some Harry Styles during this awards season. And Styles' fans can also look forward to him hitting the red carpet next month for the Oscars, where the war movie that he starred in last year, Dunkirk, is nominated in multiple categories. Who would have thought Harry Styles would be up for more acting awards than music awards?
Although Harry Styles did not manage to pick up any Grammy nominations for his debut solo album, Directioners still had something to root for at the 2018 Grammys. Zayn Malik's collaboration with Taylor Swift "I Don't Wanna Live Forever" was up for Best Song Written for Visual Media. But as solo artists, none of the former One Direction members have received any Grammy nods to date. All five of them are currently working on new albums and all receiving heavy radio play for their singles, but Styles seemed like the one most likely to get some Grammy love first. His single "Sign of the Times," a sprawling pop-rock anthem, definitely felt like the most Grammy-worthy song to come out of the the factions of a split-up One Direction. It seemed that Styles was looking to push the envelope and change the public perception of him as just a bubblegum pop boy bander, whereas the other four members of the group focused more on churning out radio-ready Top 40 pop or R&B jams.
Harry Styles may have gotten snubbed by the Grammys this year, but he is definitely working on some more music that is even better for next year's ceremony. Not to mention the fact that his acting career is taking off — did somebody say James Bond!? We will be seeing Styles at so many awards shows to come, that's for sure.