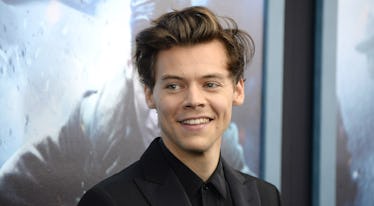 Twitter Is Freaking Out Over The Possibility Of Harry Styles Playing James Bond
Kevin Mazur/Getty Images
There have been a lot of really exciting names thrown around recently to take up the legendary spy mantle of James Bond after current 007 Daniel Craig makes his last bow, but now a surprising new name is coming up: Harry Styles! The pop singer has recently made his foray into big budget movies this past year, and now insiders in the James Bond franchise are saying that Styles may be the perfect choice for the next Bond iteration. Obviously, Harry Styles playing James Bond would be huge news, and fans of the former One Direction star could not contain their excitement at the prospect.
The idea of Harry Styles as the next James Bond actually came from within the 007 family. Lee Smith, the film editor who worked on the most recent Bond film, 2015's Spectre, told the Daily Star that Styles would be a great choice for the new James Bond, if they were looking to go a bit younger this next time:
Harry could do it. If they wanted a younger Bond then why not? He has got it.
What adds even more weight to this possibility are all the rumors that Christopher Nolan will be directing the next James Bond movie (which will be Daniel Craig's final performance), and then possibly staying on to reboot Bond with a new actor. Lee Smith has served as Nolan's editor on every one of the director's projects, so if anyone has some insight into what Nolan is thinking, it's him. And of course, Nolan just took a huge chance on Harry Styles by casting the singer in his first acting role in his 2017 war flick Dunkirk. Clearly, Nolan sees great acting talent in Styles — he even compared the pop star's acting chops to Heath Ledger's legendary performance as the Joker in his Dark Knight films — so it would make sense for the director to consider his newfound muse if he is indeed behind the new James Bond casting decision.
Of course, the major question in this casting possibility comes down to age. James Bond has historically been played by older male actors, and Harry Styles is currently 23 years old. Now, it will still be a while before a new Bond is actually cast: Daniel Craig will reprise the role in one more movie, and then a follow-up with a new actor reportedly isn't expected to hit screens until around 2022. But despite this 4ish-year wait, Styles would still be the youngest James Bond ever by a considerable margin, if he is cast. Then again, maybe the decades-old spy franchise could do with a bit of youthful energy.
After Lee Smith's quote started making the rounds, Harry Styles fans blew up on Twitter, sharing how excited they are at the possibility of Styles suiting up as the new James Bond. Check out some of the best tweets below:
But not everyone is loving the idea of Harry Styles as Agent 007. Styles is up against some stiff competition for the part, and most of the internet is already championing either Idris Elba, Tom Hiddleston, or Tom Hardy. And following the success of Charlize Theron's Bond-esque spy thriller Atomic Blonde last year, many fans are also urging the franchise to consider a female Bond. Idris Elba told Variety recently that he thinks it is finally time for James Bond to be played by someone other than a white man:
Are we interested in having a Bond character other than being a male? Could be a woman, could be a black woman, could be a white woman, but I think, that character, everybody would like to see it have — do something different with it, why not?
Clearly, this casting decision is going to be a very interesting one. But we are most likely going to have to wait a few years before we find out if Harry Styles will become the next James Bond or not.