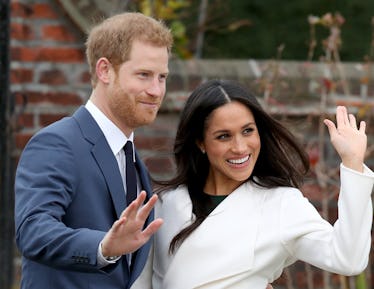 The Place Where Prince Harry & Meghan Markle Will Live Is Actually Super Cozy
Chris Jackson/Getty Images Entertainment/Getty Images
Attention, everyone! Prince Harry, (you know, Prince William's little brother), who was formerly known as the more wildcard, party boy of the royal family, is officially engaged to American activist and star of the hit TV show Suits, Meghan Markle, according to a statement from Clarence House. Now that they're engaged, we've got some QUESTIONS. Like, first and foremost, where will the two lovebirds live? Can I be their neighbor? Well, any Americans hoping to be neighbors with the royal couple can kiss those precious dreams goodbye, as Prince Harry and Meghan Markle will live on the Kensington Palace grounds in Nottingham Cottage.
How do we know these juicy deets? Well, unfortunately, the future princess didn't just text me about her new crib herself. In the official engagement announcement from Clarence House, it was stated, "The couple will live in Nottingham Cottage at Kensington Palace." Another juicy piece of information in that tweet that you might've missed? Apparently, Prince Harry's real name is Henry. More specifically, his real full name is Henry Charles Albert David. WHO KNEW?! Like, is Harry even a common nickname for Henry? I want answers.
The full statement from Clarence House on the engagement read,
His Royal Highness The Prince of Wales is delighted to announce the engagement of Prince Harry to Ms. Meghan Markle.
The wedding will take place in Spring 2018. Further details about the wedding day will be announced in due course.
His Royal Highness and Ms. Markle became engaged in London earlier this month. Prince Harry has informed Her Majesty The Queen and other close members of his family. Prince Harry has also sought and received the blessing of Ms. Markle's parents.
The couple will live in Nottingham Cottage at Kensington Palace.
If you, like me, are wondering what Nottingham Cottage, which is apparently worthy of housing two of the most precious human beings in the world, even looks like, here's a picture of the outside of it:
I don't know about you, but if I'm being honest here, it looks pretty... um, well... normal. Don't get me wrong, it's adorable. But at the end of the day, it's still just a small cottage. Yeah, that's not exactly where I would expect the glamorous royal couple to be living...
...that is, until I realized that cute little cottage is actually just a small part of Kensington Palace, part of which looks like this:
The palace also happens to be where Prince Harry grew up as a kid. Casual. I get it now.
If you happen to be wandering around the Kensington Palace grounds and want to appear hip and in-the-know, here's a cool insider tip. According to The Telegraph, the cottage is referred to as "Nott Cott" by "royal insiders." In addition to the two bedrooms and the single bathroom, the cute cottage also includes a small garden. Because I'm sure the couple will be doing plenty of gardening between press conferences and UN meetings.
The palace may be one of the smallest properties on the Kensington Palace grounds, but it, like every other structure on the property, has a lot of history. In addition to being Prince Harry's iconic bachelor pad before he met Markle, it was formerly the London home of the Duke and Dutchess of Cambridge (AKA Prince William and Princess Kate), The Telegraph reports. Before that, it was home to Prince Harry's aunt and Princess Diana's sister, Lady Jane Fellowes and her husband Sir Robert Fellowes. Another fun fact about the cottage? Apparently, the ceilings are so low that Prince William reportedly has to duck his head when he's inside of it, according to MailOnline.
According to Elle UK, Markle has already reportedly spent a lot of time with Prince Harry in the cottage. Though, a source claimed to the Daily Mail that Prince Harry has been itching to make the move permanent as quickly as possible.
Congratulations to the royal couple! I can't wait to take tourist-y pictures outside of your home next time I'm in town.