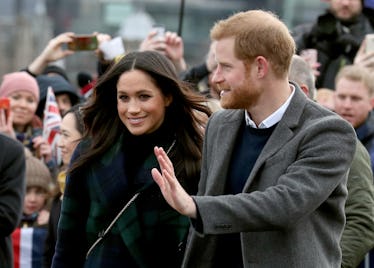 Prince Harry & Meghan Markle Have The Coolest Plans After Their Wedding
WPA Pool/Getty Images Entertainment/Getty Images
With only a few months left until the royal wedding, I'm sure that Prince Harry and Meghan Markle (or their royal planner) are making sure that all of their wedding-day details are getting squared away. But, as an OMP (Old Married Person), I know that the wedding day is great and everything, but the thing that couples look forward to the most is their honeymoon. Yes, the white dress is really fun to put on. Yep, the cake is always delicious. And obviously, the whole "having a husband" thing rules. But hopping on a plane with your new married partner and enjoying your honeymoon is pretty unbeatable. Many people are wondering where will Prince Harry and Meghan Markle go on their honeymoon, and, while nothing is fully confirmed, there are some ideas floating around.
Let's take a look at 'em, shall we?
1. Prince Harry and Meghan Markle will take a mini-moon to Ireland.
According to the Daily Mail, it looks like Meghan and Harry might be heading to Dublin just a few weeks after their wedding on May 19 at Windsor Castle, which would be their first trip abroad as husband and wife. It's believed that the royal couple may have a "series of engagements" at the Irish capital, and a source told the Irish Independent that "it will possibly be the first foreign trip after their wedding."
Not too shabby for a mini-moon if you ask me.
2. Prince Harry and Meghan Markle will honeymoon in Africa.
Did you know that Prince Harry took Meghan to Botswana on their third date (I'm more of a dinner-and-a-movie girl myself, but I'm not choosy), and it was there that they truly were able to make a connection? So maybe the couple will honeymoon back where it all began for them.
In an interview with the BBC, Harry said, "We were really by ourselves, which was crucial to me to make sure we had a chance to get to know each other."
As if we don't love Harry enough already, he has to go and say adorable things like that.
Another tie to Botswana: Prince Harry proposed to Meghan Markle with a gorgeous engagement ring, with a diamond that was sourced from the country they traveled to.
Find you a man who whisks you away to another country on your third date (and gives you one stunner of an engagement ring).
3. Prince Harry and Meghan Markle will honeymoon in the Seychelles.
This one might seem out of left field, but hear me out. Back in 2011, Kate Middleton and Prince William had a gorgeous royal wedding (don't tell me you don't know exactly where you were watching their wedding day on national television because I won't believe you), and the couple honeymooned for 10 days in the Seychelles.
Sure, Prince Harry and Meghan Markle are not usually a couple to follow in anyone's shadow, but could you blame them? The island in the Indian Ocean is remote, luxurious, and, oh yeah, FREAKING GORGEOUS.
It is amazing, Meghan. Go live that island life, girl.
So, while the soon-to-be newlyweds usually do things more unconventionally than older brother Prince William and Kate, I don't think we should take this destination out of the running just yet.
4. Prince Harry and Meghan Markle will take a pre-wedding trip instead.
It looks like the royal couple might actually be enjoying a trip before their wedding to the Greek island of Zakynthos. Spiros Lougaris, who is the owner of Hotel Castelli on the island, claims that the pair will be visiting in the beginning of May. While Kensington Palace has not confirmed this trip, perhaps that's because the vacation is less about business and more about relaxing those wedding-day jitters. Royal or not, that's a real thing, so to vacation somewhere that Meghan and Harry can receive a little R&R might be just what the couple needs.
But if we're being honest, these two are probably not nervous to get married at all, because they are one of the cutest couples that this world has ever seen.
Wherever these two decide to honeymoon, we hope that they get to enjoy their trip... and maybe get a start on making some royal babies.
I mean, Prince William and Kate's kids are probably anxiously awaiting for cousins. Do what you wanna do, you two!