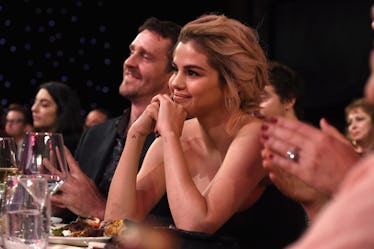 Selena Gomez Didn't Go To The Golden Globes & '13 Reasons Why' Fans Are Confused
Michael Kovac/Getty Images Entertainment/Getty Images
Not gonna lie — one of the biggest questions I had going into tonight's 75th annual Golden Globes awards ceremony was not whether Nicole Kidman and Reese Witherspoon's nominations for Big Little Lies would cancel each other out in the Best Actress, Limited Series or Television Movie category, but whether Selena Gomez would turn up on the red carpet, either with or without Justin Bieber.
SPOILER ALERT: SHE DIDN'T. Could she still be hiding out in Mexico with the Biebs??? Are they sitting at home eating Chinese food?
13 Reasons Why fans assumed Gomez would make an appearance to support Katherine Langford, considering the actress was nominated for her role as Hannah Baker. However, it looks like Gomez had to miss out on the fun. And boy, do we miss her!
Sorry, guys. I love BLL and This is Us as much as the rest of you, but SelGo always gives good carpet — I mean, remember this fierce look from the AMAs? I am living for this biker / rocker / tough gal vibe, along with her amazing blond 'do (which is sadly no more). But still: this look is just about as perfect as perfect can get, and I am so sad that we didn't get more from her tonight.
Crushed it!
Here's what Gomez has been up to instead. Girlfriend is currently having a major moment both personally and professionally. For starters, the singer/actress/activist was named Billboard's 2017 Woman of the Year, she's had a steady stream of pop hits, and she recently revealed to the world via a lengthy Instagram post that she had a kidney transplant made necessary by her struggle with lupus.
Pretty incredible.
And then there's the whole mystery surrounding her relationship with the Biebs. Because despite the very important lesson we learned from Kristin Cavallari back when The Hills was still a thing, what happens in Cabo definitely doesn't stay in Cabo anymore — thank you , Snapchat! — and as such, we all know that Jelena just spent NYE together in Mexico.
It takes major cojones to show up on the carpet and open yourself up to all those prying reporters asking for the gory deets, dontcha think?
More importantly, Selena exec-produced the controversial Netflix series 13 Reasons Why, which sadly, got passed over by the Hollywood Foreign Press Association for a Golden Globes nomination. As mentioned earlier, Katherine Langford managed to score a nod for her incredible portrayal of Hannah Baker in the Best Actress in a Drama Series category, and that's a pretty big win for Gomez too, since she helped bring the story to life.
The "Wolves" singer even congratulated Langford with a sweet post on Instagram.
"AND to this gorgeous, kind hearted lady," she wrote. "You endured this character with such strength and softness. @katherinelangford I am so proud you are being acknowledged for doing just that! GOLDEN GLOBE NOMINEE!!! Ladies are shining!"
Unfortunately for both of them, Langford lost the win to Elisabeth Moss who took home the Golden Globe for Best Actress. Still, a nomination is an award in and of itself — and the support of a friend is the icing on the cake. It's extra adorable, if you ask me.
Meanwhile, a second season of 13 Reasons Why has already been shot and is expected to air on Netflix some time this year. In case you missed it, Gomez recently posted an Instagram pic that featured cast members Katherine Langford (Hannah Baker), Dylan Minnette (Clay Jensen), and Christian Navarro (Tony Padilla) getting their photo booth on during the Season 2 wrap party:
I don't know where the hell my invite was to this bash, but I'm mad jealous I wasn't there because this just looks like way too much fun.
Way to go, Selena! If you ask me, there was no better time for this red hot star to own the red carpet.
We're just glad she didn't turn up in one of Bella Hadid's cast-offs again.
Wherever you are, Selena, I hope you're rocking your night in. You do you, girl.