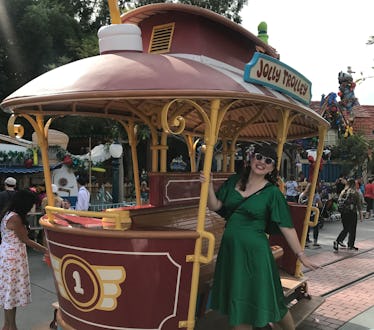 Where To Take Pictures At Disneyland, Based On Your Favorite Disney Movie
When it comes to Instagram-worthy, Disneyland just gets it. Every inch of the park has the potential to become the greatest backdrop for your next photo shoot. There's always the castle or Mickey Mouse on Main Street to snap a pic with, but if you're wondering where to take pictures at Disneyland, based on your favorite Disney movie, I have you covered.
One of the best things about going to Disneyland is being able to see your favorite movies come to life. That means stepping into the locations of that film, or meeting some of your fave characters. There are little nods to almost every single Disney movie hidden throughout the park. You just have to know where to look.
You also want to make sure your vacay photos come out amazing. While anywhere is a magical backdrop, it's important to find just the right one for your feed. Maybe you decided to DisneyBound as Tiana from Princess and the Frog or want to wear a throwback sweater from your childhood of Alice in Wonderland. So if you spot your favorite Disney movie out of these 10 films, don't forget to pull out your camera and smile, because an Insta-worthy photo opportunity is waiting for you.