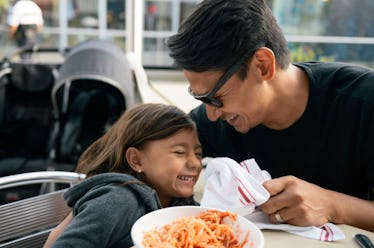 Where To Get Free Food On Father's Day If You Want To Treat Your Dad On A Budget
It can be tough to shop for dads on Father's Day. Your dad probably has a closet filled to brim with fancy ties and "Number One Dad" shirts gifted to him from you over the years. So, why not go a different route for your Father's Day celebration this year? Food is generally a safe bet if you want to make sure your dad is happy this Father's Day on Sunday, June 17. You don't even have to break the budget to make sure dad gets treated the way he deserves. Here's where to get free food on Father's Day to make sure dad gets his fill on his special day.
According to U.S. News & World Report, there are plenty of places providing free food and deals to celebrate dads on Father's Day and all weekend long. Instead of spending all day in the kitchen cooking up dad's favorite meal or sending pops out to the grill to barbecue his famous ribs, you can both take the day off from dinner duty. From buy-one-get-one deals to some free sweet treats, you're sure to find a deal that your dad will love. So, if you're stumped on what to get your dad this Sunday, remember that nothing says "I love you" like free food.