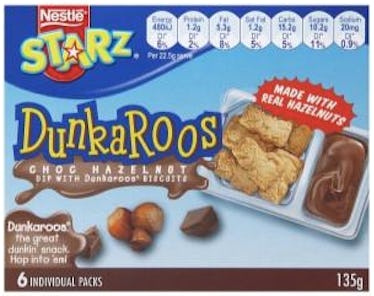 Chocolate Hazelnut Dunkaroos Exist & You Can Buy Them, So '90s Kids Rejoice
If I could relive the '90s, I totally would. No, not for the fashion (even though I do miss jelly shoes), and most definitely not for the slow internet connection (dial-up was literally the bane of my existence). Honestly, I'd do it for the food. Between Snack Packs and Fruit By The Foot, the fun options go on and on (get it?). If you're looking for a nostalgic taste of the good old days, here's where to get Chocolate Hazelnut Dunkaroos. They're a new twist on an old favorite.
Ah, Dunkaroos. They were a snack time favorite, a rare treat in my predominantly dried fruit-clad snack cabinet, and a birthday party necessity. While production of the revered snack was reportedly discontinued in the United States six years ago, it's still alive and kickin' in Australia. Apparently, their Dunkaroos come with a chocolate hazelnut spread (aka Nutella). And even though I'm beyond jealous, I can still purchase them (and so can you). The Australian Food Shop sells Dunkaroos online, and they happen to have international delivery. So once again, everything is right in this cruel, unfair world.
Between a $25 shipping fee and the price of an $11 per box, a six-pack amounts to about $36. But according to Cosmopolitan, shipping costs are calculated by weight, and anything under two kilograms (or 4.5 pounds) has the same shipping cost. Because of this, you can apparently add nine more boxes of Dunkaroos to your cart before the shipping rate goes up. That's a pretty convenient loophole, right there.
Furthermore, I have a one-track mind for Nutella. I'm not afraid to admit that chocolate-hazelnut creaminess is almost always on my brain. And since a Nutella-like spread has just been combined with one of the greatest snack foods of all time, I am over the moon RN.
Per Cosmopolitan, Michigan-based Instagram user, @JunkFoodMom, tried the highly-anticipated cookies, and they sound absolutely phenomenal. The cookies are reportedly kangaroo-shaped (yes, you heard me), and the dip is actually made with real hazelnuts.
Her photo caption reads:
Nope... you're not seeing things.. Chocolate Hazelnut Dunkeroos from Australia. Just received another swap box from my buddy @defensive_wounds_band and these beauties were included. Have great memories of Dunkeroos growing up. Made by Nestle Australia the crackers are shaped like kangaroos and the chocolate dip is made with real hazelnuts. These are awesome yea sure I could dip animal crackers in chocolate hazelnut cream but that's not nearly as fun as a Dunkaroo. " Roo shaped... hop into 'em " I'll post a pic of my entire swap box soon. Thanks Clint
Once you get your Dunkaroo fix, continue reveling in those '90s vibes at Burger King. The fast food empire is bringing back their critically-acclaimed Spicy Chicken Nuggets for a super limited time on Friday, April 20. They won't be available forever, so getting your hands on some is absolutely mandatory. Whether you choose to dunk them in BBQ sauce, ketchup, or if you decide to eat them totally naked, they're a blast from the past. I miss Spicy Nuggets more than anything in the world (except for Dunkaroos, if I'm being quite honest).
Maybe spending my days throwing shrimps on the barbie and fighting off dingos doesn't sound so bad. I'd do anything to have some Chocolate Hazelnut Dunkaroos in my life (and to dodge those extravagant shipping costs). But if you don't have time to pack up and move to Australia for the absolute best snack on the face of the planet, I guess that's fine. Just know that I am way more dedicated than you are.