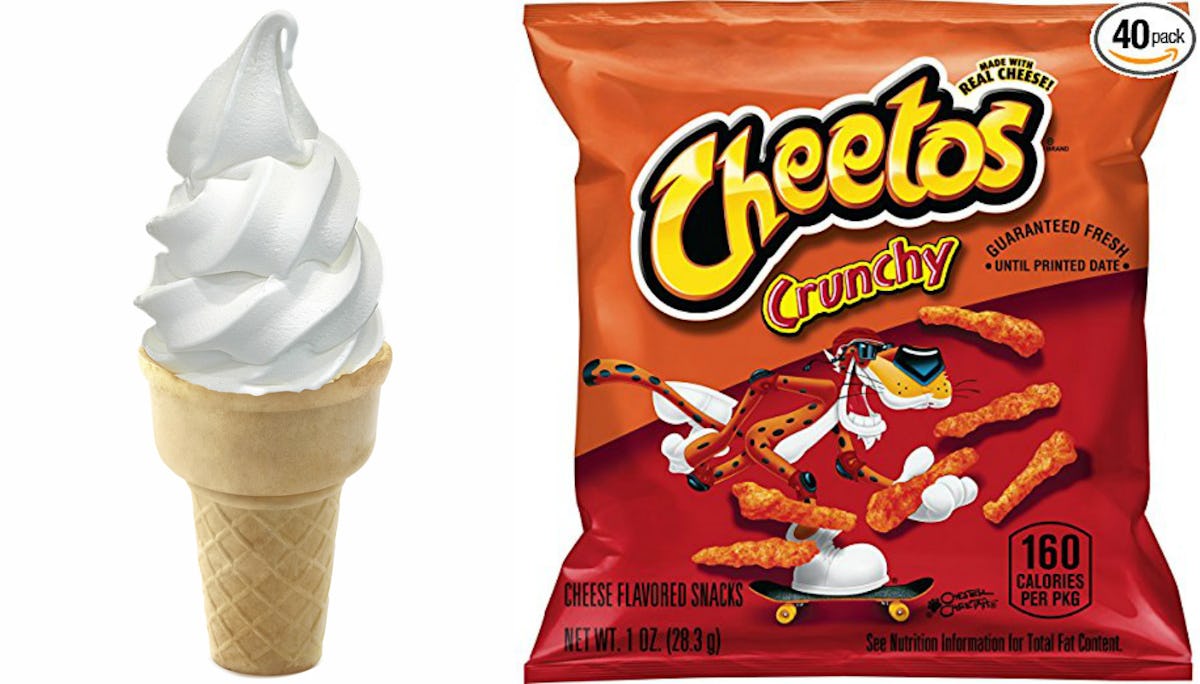 Cheetos-Flavored Ice Cream Exists & It's Putting A Cheesy Twist On Your Cone
One of the best parts about the summer is that you have so many opportunities to eat delicious ice cream. Of course you can enjoy the frozen treat throughout the year, but the sweltering summer temperatures surely provide the perfect excuse to grab a cone. You probably have go-to flavors to satisfy your sweet tooth, but what about those times when you want something out of the ordinary? Here's where to get Cheetos-flavored ice cream for a deliciously different dessert this summer.
You might wonder why you need to try a flavor that sounds like it might totally ruin both Cheetos and ice cream for you, but you don't have to worry about a cone of the stuff altering your lifelong flavor preferences. Big Gay Ice Cream's Cheat-Ohs soft-serve ice cream is unexpectedly delightful. Lucky ice cream fans in New York and Philadelphia can try the cheesy-inspired cone at all of the Big Gay Ice Cream locations through Sunday, July 8, per the Big Gay Ice Cream Instagram account.
The inventive ice cream shop has two locations in New York City and one in Philly. When you order the Cheat-Ohs cone, you'll get a cheese-flavored vanilla ice cream cone that is rolled in Cheetos dust, according to NBC 4 New York. At least you won't be covered in Cheetos dust after enjoying the Cheat-Ohs ice cream.
OK, you might be back on the skeptical side of the fence after hearing that flavor description, but Douglas Quint, co-founder of Big Gay Ice Cream, explained to NBC New York that a lot of time and effort went into perfecting the flavor. Quint explained:
It was a bit of a trick because if it wasn't sweet enough it tasted like cold mac and cheese so it was a bit of a procedure to get the sweetness right.
TBH, I wouldn't be mad at some "cold mac and cheese," but I am glad that the end result has the perfect amount of sweetness. Quint can also relate to ice cream connoisseurs who are apprehensive about the mashup of these two classic eats. To put your taste buds at ease, he shared that there is a "universal" reaction to Cheat-Ohs ice cream. Quint elaborated:
The reaction to Cheat-Ohs is pretty universal, which is the first bite was terrifying — it's just like my experience — the first bite was terrifying, and then I don't know why but I ate the whole cone.
So if you think your trepidation about trying the out-of-the-box flavor should be enough to steer you right back to plain ol' vanilla, you might want to take a chance and try the Cheat-Ohs flavor. You never know: You might just wind up devouring the entire cone. Remember that the limited-time flavor leaves the shops on Sunday, July 8, so don't miss out on your chance to give this flavor a try.
You might wonder how Big Gay Ice Cream came up with the idea to combine such different flavors. According to Metro New York, the flavor release was intended to be a joke for Presidents' Day weekend in February 2018 — so the name "Cheat-Ohs" is pretty self-explanatory. In an unexpected twist, the flavor created in jest turned out to be seriously good.
If your Cheat-Ohs ice cream adventure suddenly puts you in the mood to try other different flavors of soft serve, you can head over to Lucky Pickle Dumpling Co. in New York City for pickle-flavored ice cream. Similar to the reaction to Cheat-Ohs ice cream, people are very much here for this surprising flavor combo.
Yep, your favorite savory snacks have officially found a home in your go-to dessert during the summer, so you no longer have to decide between satisfying your crunchy craving or your sweet tooth. With the latest mashup flavors — like Cheat-Ohs — you can have both. Here's to a delicious summer ahead!