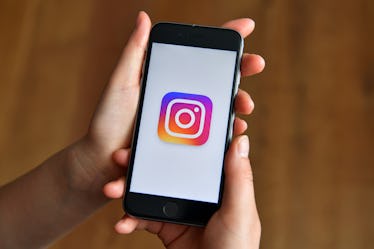 Where To Find Instagram Story Highlights So You Can See What Your Friends Are Up To
Carl Court/Getty Images News/Getty Images
Sometimes I'm just too lazy to do all the work associated with posting pics on Instagram. Sizing, then slapping on a filter, adjusting, tagging properly, it's a hard day's work. I've become spoiled by Instagram's story feature that's made it so easy to snap and post. I'm not alone either: everyone from your BFF to your favorite coffee shop is using stories, especially now that you can save everything you post to Instagram's "Story Highlights." I know you want to follow along, so you might be asking where to find Instagram story highlights so you can see what your pals are up to. Don't worry, I've got you covered.
For me, I love to check in with my friends, favorite restaurants, and bloggers to see what they've been up to. But if I'm not on Instagram for a day (for some wild reason), I can still see what I missed if they pinned it to their highlights. Thankfully, it was super easy to figure out too. All you need to do is go to a user's profile and you'll find it right under their bio. Instagrammers can save multiple highlights that all appear in small circles on each user's profile. See, it's that simple.
Because I'm here to make life as easy as possible for you, here's a visual aid:
See those circles marked "About Last..." and "Horoscopes?" Those are Elite Daily's highlights.
Now that you know where to find them, you might also want to know a little more about them. Instagram initially rolled out "Story Highlights" on December 5, 2017. Essentially, they're just stories that you can save to your profile. If something really cool happens or you have a big announcement you shared in stories, you can pin it to your profile so it doesn't disappear after 24 hours like normal stories. All you have to do is click the little heart that says "highlight" in your story.
"Story Highlights" also allows you to categorize your highlights. So let's say you go around snapping pics of awesome latte art, you can create a separate highlight of latte art adventures that all your followers can check out when they visit your profile. You can call it, "Latte Art Adventures," creative I know. Hop on over to your favorite blogger's page and you'll probably find a slew of highlights each for a different thing like "fashion," or "beauty," or, "milkshakes." It's so you can neatly organize all your most important stories.
If you accidentally add something to your highlights (which if you're anything like me I know you will), it's easy to delete. Just click on the highlight and then click on the little "more" option at the bottom. It'll ask if you want to "remove," "edit," "send," or "copy link." Hit remove and it'll be gone from your profile faster than you can say "hope no one saw that."
Also, don't worry, this only works if you choose to highlight a story: the rest disappear after the usual 24 hours.
But if you've followed all these instructions, and you're still having trouble finding the highlights? Well, it might be a glitch? Back in April Instagram found a bug that was preventing people from seeing their highlights. The company issued a statement that reads, "We discovered a bug that temporarily prevented some users from being able to see their Highlights. We quickly issued a fix to restore Highlights for everyone. We apologize for any inconvenience this caused." If you're having trouble with highlights, you should probably restart the app and see if it fixes the problem.
Because as you can probably already tell, the highlights feature is pretty fun to use, easy to manage, and the possibilities are endless. So get to it, and safe highlighting!