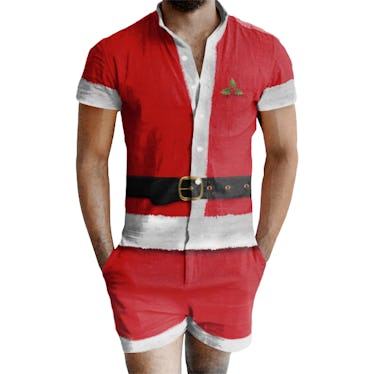 "Ugly Christmas Rompers" For Men Are Here & They're Perfect Gifts For Your Bae This Year
Happy November, everyone! Or should I say, Merry Christmas, since all the holiday bells started ringing the second Halloween ended this year. Now that it's officially time to get ready for winter, it's also time to start buying presents for your loved ones. If you're in a relationship, you've probably already begun frantically searching the web for the perfect gift for your bae, but don't fret — I have you covered. Sure, I'm single AF (yes... still), but I have a great gift idea for you if you're trying to buy something for your boyfriend. What is it, you ask? Christmas rompers, of course. If you think your boo thang will like one of these getups for the cold months ahead, I'll show you where to buy "Ugly Christmas Rompers" by GetOnFleek this year.
Before we dive into details about the Ugly Christmas Rompers, let's talk about the ghost of rompers' past (see what I did there?). You may or may not remember the whole "Romphim" hysteria that took place in May 2017. It was quite the time to be a dude, and the male romper fashion stuck. About a month later, we were introduced to an entirely different selection of male rompers by a company called Getonfleek that sported fun colors and designs that everyone — guy or girl — was guaranteed to love.
Now that the holidays are finally upon us, Getonfleek decided to create a line of "Ugly Christmas Rompers" that'll definitely heat up your Christmas Eve with bae under the mistletoe. Heck, even if you're a single guy or gal who loves comfort, they're perfect — so why not treat yourself to an early holiday gift?
Without further ado, let's take a look at the Ugly Christmas Rompers so you can figure out which one you want to buy your boo for the holidays.
Santa Ugly Christmas Romper
Santa's Ugly Christmas Romper, $100, Getonfleek
Ahem, cue "Santa Baby," please.
As you can see, the Santa Ugly Christmas Romper is a simple holiday staple that'll put your bae into the holiday spirit. To be honest, if my boyfriend wore this on Christmas to my family party, I wouldn't even be disappointed. (That is, if I had a boyfriend.)
Elf Ugly Christmas Romper
Elf Ugly Christmas Romper, $100, Getonfleek
Isn't this the cutest? If your bae likes watching Elf on repeat throughout the month of December, maybe this is a gift he'll cherish. If not, it's still festive AF and probably great for cuddling.
It's Lit Ugly Christmas Romper
If your man is celebrating Hanukkah this year, this is the perfect gift. It's royal blue in color and showcases a menorah in the center.
It's definitely lit.
It's Lit Ugly Christmas Romper, $100, Getonfleek
Classic Ugly Christmas Romper
This romper replicates your typical "ugly" sweater decked with presents, string lights, snowflakes, and Christmas trees. It's perfect for any ugly sweater party... or any holiday party in general. TBH, it's probably great to lounge around in on Christmas Eve while you're binge-watching your favorite holiday movies.
Classic Ugly Christmas Romper, $100, Getonfleek
As you can see, these Ugly Christmas Rompers would definitely be the perfect gifts for your SO if they're into festive getups and comfy one pieces. In case you're wondering, they're all on sale for $99.99 on Getonfleek's website (they're normally $139.99, so if you want to splurge on bae, now's your chance).
If you're wondering if the money is worth it, allow me to assure you that it definitely is. I was lucky enough to try a few for myself, and they're super silky and comfortable. I definitely wouldn't mind cuddling up to someone wearing one of these (or, of course, just wearing one myself).
Happy holiday shopping, everyone!
Check out the entire Gen Why series and other videos on Facebook and the Bustle app across Apple TV, Roku, and Amazon Fire TV.