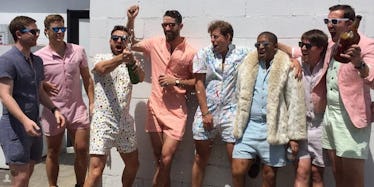 Everyone's Roasting Men's Rompers, But Here's Why We Shouldn't Shame The Trend
Instagram
Someone made a Kickstarter for stylish male rompers, and it's getting a ton of conflicting reactions.
If you're looking for mercy in this particular fashion department, step away from your keyboard because you're not going to get it from the internet.
The RompHim Kickstarter (yes, it's exactly what you think it is) is raising money for rompers for men, and the internet is torn.
"Is it a romper specially designed for men? Sure, but it's also so much more," the campaign reads.
Featuring a bro squad participating in guys' favorite past times — "concerts, beach days, bar patio visits" — the garment made and manufactured in Chicago guarantees to leave fellas snapping necks and cashing checks.
I'm not going to lie to you, I'd totally love to get my hands on a mint one.
While, yes, there's humor in the brand's presentation of its collection, the internet was quick to fire back with its own version of humor.
A lot people are roasting the upcoming fashion trend.
You have to admit, there's definitely a double standard that exists here. Why can't men wear rompers, too?
I'm no stranger to the men's department, and I love perusing graphic tees and sweaters meant for fellas. I wear my grandfather's Lacoste cardigans and Elgin watch, and though it might be more of a sentimental reason than a style reason, I'm definitely not wearing clothes intended for women.
I'm never judged for my oversized yellow sweater hand-me-down. In fact, I'm complimented. I've also had strangers approach me about my men's watch (no joke).
So why do guys face the backlash when they choose to wear something made popular by women?
I mean, unisex lines are popping up at our favorite spots like Forever 21 and H&M.
H&M spokeswoman Marybeth Schmitt commented on the brand's unisex line, saying,
Fashion is constantly evolving and intersecting, and today we see there are no boundaries in democratic style. Fashion should always be inclusive.
So if a well-known brand is promoting inclusivity, it's interesting to see that a smaller project is met with a bit of backlash.
However, some people are welcoming the trend with open arms.
Let's face it: RompHim is getting the last laugh. The brand's online campaign exceeded its goal of $10,000 and raised over $48,000 as of May 16.
"We're revolutionizing men's fashion, and that doesn't stop at aesthetics," the Kickstarter reads.
Slay, RompHim, slay!
Citations: The RompHim™: Your new favorite summer outfit (Kickstarter)