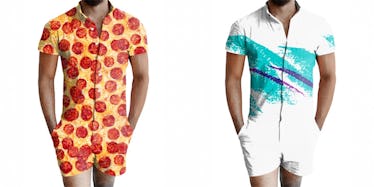 There's A New Collection Of "Party" Rompers For Men And The Designs Are Unreal
Get On Fleek
In case you missed the craze, RompHims are all the rage right now and men can't get enough of the comfy one-piece fashion trend.
After a Kickstarter was made last month to promote pastel-colored rompers for dudes, companies caught onto the madness and started making their own -- and they're definitely pushing style boundaries with wild new patterns.
One company in particular that's taking rompers to the next level is GetOnFleek.com. Instead of sticking to summery colors, the edgy company is releasing "party" rompers with designs that'll blow your mind.
Seriously... these getups are perfect for guys (and gals) who want to make a bold statement this summer whether they're at the club or bumpin' backyard party.
I'm a huge sucker for pizza, so my favorite mens romper on the site is definitely the Pizza Romper.
It looks delicious.
That's not the only food-inspired romper they're selling, though.
If you want to look sizzling hot this summer, try the Bacon Strips Romper.
If you're more of a breakfast person, try on the Tater Tots Romper.
For those of you with a sweet tooth, the Donuts Romper would be perfect.
It comes in Beef Ramen, Pork Ramen, and Shrimp Ramen, too.
If you aren't into wearing your food, have no fear: Get On Fleek is also selling rompers with other hilarious and creative patterns that won't make you hungry.
Need I say more?
Um... I have no words for this one.
It's called the Rainbow Llamacorn Romper.
You can't go wrong with a romper that has a fierce kitty on it.
This American Flag Romper is the perfect getup for Fourth of July parties.
These are just a few mens rompers on GetOnFleek.com that caught my eye, but there are over 96 fun rompers on the site that are currently on sale for $79.99. Check them out here.
Whether you're a guy or a gal, take a look at the rest and get ready to rock some rompers this summer.