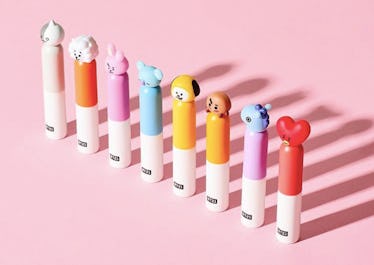 Here's How You Can Get Your Hands On The Adorable AF BTS x VT Cosmetics Collection
Last week, K-Pop fans and beauty lovers alike rejoiced at the news of the BTS x VT Cosmetics launch. And just a few days after its initial release on Friday, Oct. 12, avid BTS followers are itching to know how and where to buy the BTS x VT Cosmetics Collection. This new collection marks the second collaboration between BTS and VT Cosmetics, as just last year the band and cosmetics company teamed up to release a color-correcting cushion foundation with SPF 50. This year's launch, however, boasts way more than just foundation. The latest drop is designed around BT21, the seven-member band's cartoon avatars. Naturally, this means the avatars are adorably splashed across the packaging and the collection is too cute for words.
The newest launch contains eight matte lipsticks, liquid eyeshadows, six-pan eyeshadow palettes, foundations (in a liquid formula and as cushion compacts), a CC cream, and a luminizer. The lippie lineup includes a range of soft and bright matte shades, from "Pure Coral" to "Pop Orange" to "Potent Red." If the softer shades are more your go-to, you will probably want to cop "Nude Brick" or "Vanilla Pink."
As far as the prices of the new collection goes, each individual product retails between about $13 USD (for the matte lipsticks) and about $28 USD (for the six-pan eyeshadow palettes). Adorably packaged products that all ring up for less than $30? Now, that's definitely something to fangirl (or fanboy) over.
So where exactly can you purchase BTS' second collab with VT? Well, the answer is a bit unfortunate for those BTS-lovers residing stateside. The Korea-based cosmetics brand doesn't currently ship to the United States.
So, what is the next best option if you don't have a friend in Korea who's able to do you a major solid and ship this collection to you? Well, I'd say it won't be long until the collection hits third-party sellers like Amazon (where you can currently find the first BTS x VT launch here). The only downfall to finally being able to get your hands on the collection? When sold through third-party sellers, the sellers will likely raise the prices of the items, so you can likely expect to pay more than the original prices.
However, if you're a die-hard K-Pop fan, hiked-up retail costs are a small price to pay for the chance to get your hands on makeup created by your favorite boy band. After all, if the BTS x VT products deliver quality comparable to most other Korean beauty brands, then these products will likely be worth every penny. Not to mention, besides their dance moves, coordinated outfits, and catchy songs, the boys of BTS have pretty beautiful complexions themselves — maybe this line is the secret to their even finishes?
If you can't wait to add a touch of BTS and even more K-Beauty products to your beauty vanity, then be sure to keep a close eye on sites like Amazon and eBay to find out when you, too, can get your hands the latest BTS x VT Cosmetics drop.