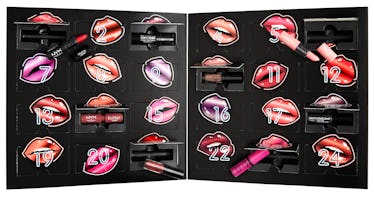 This Advent Calendar Is Filled With Lipstick So The Holidays Just Got Glam AF
Lip kits make for a solid holiday gift, but this year, there's a more beautiful way to gift lipstick to someone you care about (even if that person is you.) Lipstick advent calendars are the most festive beauty gifts the internet has ever seen, and if you're not already wondering where to buy NYX Lippie Advent Calendar, you will be as soon as you lay eyes on it.
First things first, I'm Jewish. Now that the elephant on the page has been addressed, I will also tell you that I always had Christmas FOMO growing up. Don't get me wrong, Hanukkah is great too — I enjoy a nice Menorah-lit dinner of crispy latkes and doughnuts. Yeah, we get homemade doughnuts for dessert. But, sometimes, all the deep-fried food in the world is no match for the fanfare that is Christmas. I mean, you guys get presents before the holiday even starts! This year though, I may have to relent and join in on the fun because, seriously, how can I resist a lipstick advent calendar? I can't.
The Lippie Countdown Advent Calendar sells for $65, comes with 24 glorious shades of lipstick, lip gloss, and lip cream, and the priceless self-indulgence of getting a brand new lipstick every day for 24 days. That price comes out to less than $3 per lipstick, so all I need to know now is, how do I countdown the days until it's time to start the advent calendar?
Lippie Countdown Advent Calendar
Lippie Countdown Advent Calendar, $65, Ulta
Anyone else getting some serious GLOW from Netflix vibes, here? The disco-licious packaging for this advent calendar is a gift in and of itself.
The divine calendar comes equipped with seven standard lipsticks, seven liquid lipsticks, five lip glosses, and five lip creams. Shade-wise, the brand provides myself and other lipstick-loving scoundrels with the perfect assortment of nude hues, rosy pink pigments, pretty purples, and fiery red hues in both shiny and matte finishes.
Based on my official scientific research, I can semi-confidently predict that days six and 21 are going to be particularly good to me. There's no telling for sure which goody you'll get on which day though, at least not without buying the calendar. But at $65, that's a price I'm quite literally willing to pay.
If you're an impatient barbarian (like myself) and unable to pace yourself while revealing only one lippie a day, don't worry. NYX has also gifted the beauty-hungry world with additional holiday treats, such as this vault of soft matte lip creams.
Soft Matte Lip Cream Vault II
Soft Matte Lip Cream Vault ll, $65, Ulta
The juggernaut has been rightfully labeled a vault because it holds such valuable commodities. You don't need a key to get into it, unless you want to lock it up somewhere so your little sister or cousin can't get to it. That actually might not be a bad idea, I'll be right back...
OK, I feel much better. Where were we? Oh yeah, the vault includes 24 of NYX's most popular shades and 12 newly created colors. So you'll be stocking up on your old favorites and getting a dozen shades that have never-before touched lips. That's a serious double whammy. All in all, the vault boasts 36 lip creams for the seriously reasonable price of $65. If you do the math — but you don't have to because I've done it for you — that comes out to about $1.80 per lip cream.
Whoa is right.
If nothing else, let these insanely drool-worthy NYX gift sets serve as a reminder that there is more to life than Kylie Jenner's lip kits. And NYX bestows you with some awesome lipsticks that you don't have to pounce to buy within 10 seconds because they'll sell out. Seriously, Kylie, you know people are going to buy your lip kits, can you just make more of them? So thank you, NYX, I already know what Santa is bringing me this year, even though I'm Jewish.