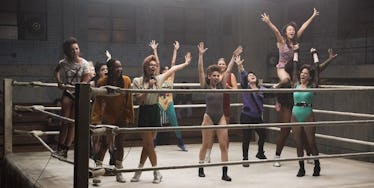 Netflix's 'GLOW' Was Renewed For Season 2, So Get Ready To Get Back In The Ring
Erica Parise/Netflix
Not all Netflix shows are getting the ax — GLOW has officially been renewed for Season 2. Netflix announced the news Thursday on Twitter, along with a promise of "more glitz" and "more glam" in GLOW Season 2, according to a report from Deadline, Season 2 of the all-female wrestling show will be 10 episodes long. No release date has been announced yet, but presumably the streaming service will aim for June/July 2018 release, as the first season premiered June 23.
The first season stars Alison Brie, Betty Gilpin, and Marc Maron in a fictionalized representation of the real-life all-women wrestling TV show from the '80s, Gorgeous Ladies of Wrestling. Brie stars as Ruth Wilder, a struggling actress who auditions for GLOW as a last-ditch attempt to break into the industry. The Netflix series was created by Liz Flahive and Carly Mensch, with Orange is the New Black's Jenji Kohan on as an executive producer. Season 1 received generally positive reviews from critics, with many praising the large cast of diverse, complicated female characters.
The Season 2 announcement came from the official Netflix Twitter, along with a short teaser clip of a women's lips covered in sparkly lipstick, perhaps a hint of the costume changes coming for the ladies.
GLOW is one of several new Netflix original series from 2017 that survived cancellation so far. Marvel's Iron Fist, 13 Reasons Why, Dear White People, One Day at a Time, and Santa Clarita Diet were also all renewed for a second season. However, Netflix's original 2017 comedy, Girlboss has been cancelled after one season. Earlier this year, Netflix also cancelled two of its original series, The Get Down and Sense 8, each after two seasons.
Recently, The Los Angeles Times reported Netflix is $20 billion in debt due the streaming service's increased effort to create more and more original content. Meanwhile, Disney recently announced it would pulling its titles from Netflix in 2019, in order to create its own, Disney exclusive streaming service.