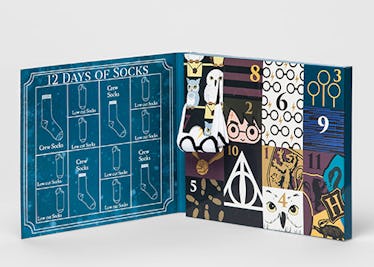 This $15 Harry Potter Sock Advent Calendar Is So Magical, You'll Want To Accio It RN
Target
If you want to stay warm and toasty this winter, but unfortunately haven't received your annual Weasley sweater, then run to your nearest Target and nab this magical Harry Potter Sock Advent Calendar. For a mere $15, you'll score 12 pairs of festive foot coverings for you to share with friends or hoard for yourself (but you know what Harry would do).
True Harry Potter fans know the importance of a good sock. After all, a sock alone was enough to free the beloved Dobby the house elf. Imagine how many house elves you could free with 12 pairs of Harry Potter socks? Hermoine Granger herself would be so proud.
The best part is this snuggly sock advent calendar is only $15! That's $1.25 for each pair of socks. There's no need to be clairvoyant like Professor Trelawney to see what a fantastic deal this is. Comfy socks are certainly a much better present than seven swans a-swimming or a partridge in a pear tree. Who wants eleven pipers piping, anyway? Give the gift of snuggly socks and you'll be certain to appease any witch, wizard, or muggle this holiday season.
Just open the magical packaging and prepare to be bewitched and bewildered.
Each flap gives a preview of the sock pair stored inside. The taller sections contain crew socks while the shorter sections hold the low-cut socks. And no need to cast an alohomora charm on the box set. The flaps simply pop open so you can easily remove the socks inside.
Just look how adorable they are! You can pledge your allegiance to the Gryffindor house with a fancy pair of black and red striped socks emblazoned with the Gryffindor coat of arms. Or slip into some black and white crew socks to remind everyone that you're "the chosen one."
Show some school pride in your Hogwarts School of Witchcraft and Wizardry socks. Or show remembrance for Hedwig the owl by wearing her image on your feet.
You can finally be a Keeper or a Seeker and live out your Quidditch dreams. Or you can be up to no good in your Marauder's Map socks.
How much cuter would this scene have been if Dobby held up a little chubby cartoon of Harry Potter's face instead of this gross, old, stinky sock?
Now there's no denying these socks are simply amazing. But what if your friends don't like Harry Potter?
No need to panic, though you might want to consider finding new friends.
Target is offering a whole slew of sock advent calendars perfect for any and all interests. There are advent calendars full of socks with cute little forest animals on them.
Aren't they just adorable? Look at the little raccoon wearing a pink bow! So cute.
There are sock advent calendars for your friend that starts listening to Christmas music on November 1st.
Don't these fill you with holiday cheer?
For those utilizing the Force, there are socks for the Star Wars fans out there.
And lastly, there are socks for the DC Comics lovers in your family.
TBH, I have friends that would love all of these sets of socks. And for $15, you won't be breaking the bank by buying your bestie or coworker or little sister the perfect gift this holiday season.
So whether you're a massive Harry Potter fan or not, you can find yourself the perfect set of warm and cozy socks to keep you comfy all winter long. But let's be real, the Harry Potter sock advent calendar is truly the most magical. Anyone who denies it is merely a jealous muggle.