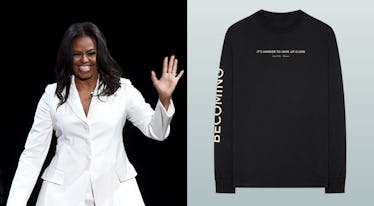 Here's Where To Buy Michelle Obama's 'Becoming' Merch, So You Can Dress To Impress & Give Back
Kevin Winter/Getty Images Entertainment/Getty Images // Becoming
When it comes to exceptional women, the 44th FLOTUS of the United States ranks highly. She's intelligent, wise, charming, inspirational, and just plain cool. Recently, she released a stellar memoir and some cool merch to go with it, so if you're wondering where to buy Michelle Obama's Becoming clothing line, you've come to the right place.
In case you haven't gotten the chance to look into it yet, Becoming should definitely top your next reading list. The book's website describes it as "a work of deep reflection and mesmerizing storytelling" that chronicles the experiences that shaped Obama into the woman she is today. It spans from her childhood in Chicago to her years working in law and non-profits to her time spent in the White House (I miss her there!) to now. "With unerring honesty and lively wit, she describes her triumphs and her disappointments, both public and private, telling her full story as she has lived it—in her own words and on her own terms," describes the website.
As you would expect, the book is chock-full of quotes and messages that uplift, empower, and inspire and to help you incorporate them into your everyday life, they're now being offered in wearable form.
To coincide with the release of her memoir, Obama also released a Becoming merch line (offerings come in sizes S-2XL) that includes a hoodie ($65), a crewneck sweatshirt ($60), tees ($35), a hat ($35), a tote ($30), a journal ($35), pencils ($10), enamel pins ($20), mugs ($20), and even a candle ($35). All of them serve as little reminders to pay attention to and appreciate the journey that life is in itself, which is the underlying theme in Obama's book. "Becoming isn't about arriving somewhere or achieving a certain aim," Obama writes on her website. "I see it instead as a forward motion, a means of evolving, a way to reach continuously toward a better self. The journey doesn't end."
Sounds like something you'd want to keep at the forefront of your mind on the daily, right? To shop the collection, head to the Becoming Michelle Obama Shop, where you'll be able to make your purchase online. If you prefer to do your shopping in person, the collection is also being sold at all of Obama's book tour stops, the dates and locations of which are listed here (scroll down a bit and you'll see them).
As if spreading Obama's brilliance via your clothing wasn't good enough of a reason to shop the collection already, all of the net proceeds from its sales will be donated to Global Girls Alliance. Recently founded by Obama (she is an actual superwoman), the non-profit "seeks to empower adolescent girls around the world through education, allowing them to achieve their full potential and transform their families, communities, and countries," according to its website.
If you've still got holiday shopping to do, the best gifts are those that also give back. The Becoming clothing line does in more ways than one, so why not buy Obama's memoir for every woman (and man!) in your life and throw in a piece of merch for good measure.