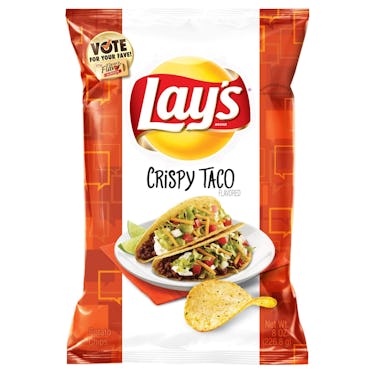 Lay's New Potato Chip Flavor Probably Goes Well With Guac & You're Going To Love It
Earlier this year, Lay's started their very popular "Do Us A Flavor" competition, where potato chip fans voted on the next big flavor. After many entries, Ellen Sarem from San Antonio, Texas was crowned the winner — all thanks to her very creative (and delicious) Crispy Taco flavor. Not only did Sarem walk away with the satisfaction of knowing she was the winner, but she also walked away with a million dollar prize. Pretty awesome! Now that there is a new Lay's flavor many are wondering where to buy Lay's Crispy Taco potato chips, and I have the answer you are looking for.
If you are dying to try the new Crispy Taco chips from Lay's, you can find them at your local Target. Before you make the trek to your local Target, check their website to see if the new Crispy Taco Potato Chips are actually in stock. And if you are wondering if you can order these chips straight from Target's website, I've got some bad news: you can't! However, you can find the new Crispy Taco Potato Chips on eBay, but beware, they will be hiked up in price.
You can also find the four "Do Us a Flavor" finalist chips sold as a bundle (and available online for purchase) at Walmart stores. If you need more convincing on why you should go out of your way to try these chips, check out what the Twitterverse has to say about it, below.
"Anyone looking to eat their feelings should get a bag of #LaysCrispyTaco chips. It will cure all your problems instantly."
"America needs to rally behind one cause and I believe that cause is crispy taco flavored Lays chips"
"The F*ckin Lays Crispy Taco Chips Are Next Level Lit, Dont Forget About Fried Green Tomato Too, Damn"
"Sooo crispy taco @LAYS are actually really good...."
"Lays Crispy Taco chips blow my mind"
OK, I'm really going to have to try these chips because they sound amazing. Millions of fans took their time to vote for their favorite flavor between July 24 and Oct. 8, until Lay's Crispy Taco was declared the winner. But these delicious taco chips had some serious competition. The other flavors that were finalists along with the Crispy Taco Chips were:
Wavy Fried Green Tomato
This flavor was submitted by Gregory Pope of Charlotte, North Carolina, and was among the favorites of those who loved enjoying their Lay's chips with a Southern twist.
Kettle Cooked Everything Bagel With Cream Cheese
I'm just gonna go ahead and say it: The Kettle Cooked Everything Bagel with Cream Cheese Lay's makes it socially acceptable to have chips for breakfast. This delicious chip idea was created by Lindsay Hoffman of Palm City, Florida.
The Wavy Fried Green Tomato and Kettle Cooked Everything Bagel with Cream Cheese Lay's were stiff competition, but the people have spoken and made Lay's Crispy Taco potato chips the winner. This marks the fourth time Lay's does their "Do Us a Flavor" competition, with flavors like Southern Biscuits and Gravy and Cheesy Garlic Bread.
Imagine winning a million dollars just because you came up with an amazing new Lay's flavor? You can do just about anything with your winnings like go on an amazing vacation, get a new car, buy an awesome house, heck the possibilities are endless.
OK, I think I have officially convinced myself to enter the competition next year. Maybe I can come up with a cool new flavor that incorporates rosé in some way.
Stay tuned!
Check out the entire Gen Why series and other videos on Facebook and the Bustle app across Apple TV, Roku, and Amazon Fire TV.