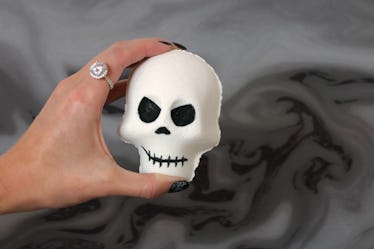 These Spooky Bath Bombs Come With Rings Inside Of Them So You Can Trick-Or-Treat Yourself
October is a busy month for everyone. Between finding the perfect Halloween look, carving jack-o-lanterns, and attempting recipes with all-things pumpkin spice, people have a lot on their hands... which is why a little spooky R&R is in order. Here's where to buy Halloween bath bombs so that you can have some down time during this busy holiday season.
The ever-so-creepy Pearl Bath Bombs Halloween treats are essential for fall bliss. The Hocus Pocus Pack (a perfect name, wouldn't you say?) comes equipped with a skull-shaped bath bomb — named the "Boo! Bomb" — that bears a striking resemblance to Jack Skellington and oozes a lovely raspberry scent. Vampire Kiss — a white bath bomb with two streaks of pomegranate blood — is a perfect way to show your love for Dracula. Lastly, the Magic Charcoal Bath Bomb with a hint of coconut is as dark as it is divine. Obviously, this package is a must for your tubbing needs this spooky season. If you act quickly, you can score a deal and get the sale price of $46.95.
For those who are ready to fill up the tub: beware. "Side effects may include an increased excitement for Halloween, scary soft skin, and bringing out your darker side," the company's site said. This certainly sounds like the ideal creepy and relaxing plan. Grab the towels and prepare for an eventful dip.
Ready for a Hocus Pocus bath bomb?
You're going to be in for a ghoulishly good time with these bad boys. What's even better is the fact that you're going to be in for a trick-or-treat surprise of your own. When the bath bomb dissolves, a lovely little ring in either sterling silver, rose gold, or gold will be revealed. It's obviously a necessity, so make sure you act fast and grab it before another witch or demon tries to steal it from you.
Ah, what's better than a little treat, something sweet, and something creepy? Pearl Bath Bombs speaks to all of our October needs, and we're forever grateful. This is just as lovely as a scary movie marathon.
If you're going to really indulge in this spooky bath ritual, there are definitely a few things you need to know.
First thing's first, you need to set the mood.
Your time in the tub is an opportunity to unwind and indulge in something relaxing. What better way to do so than with candles? Since it is Halloween, after all, you're going to want to light one of these Starbucks Pumpkin Spice Latte candles. Not only will you be treated to fruity goodness in the tub, but once the scent of your bath bomb begins to fade, these babies will satisfy all your fall needs. According to Double Brush on Etsy, the shop selling these items, "Our yummy frappuccino candle smells like coffee with sugar & cream, and notes of vanilla, chocolate, and hazelnut." Try to resist that.
The next thing you need to do is find some entertainment.
Let's face it, you're going to shrivel up like an old pumpkin in the tub, so you'll want to find some sort of way to pass the time while you're in the bath. Try grabbing a spooky book to put you in the Halloween spirit. Classics like Frankenstein or Dracula will definitely do the trick. Or, you can take a ride down memory lane and pick up a copy of Scary Stories to Tell in the Dark, the ultimate frightening piece of literature that scared the pants off you in elementary school.
And finally, grab a drink.
Tubbing and sipping wind go hand in hand, but this is Halloween — you need to capture the spirit of the season. Try one of these alcoholic takes on the PSL to enjoy while you soak in a fruity, spooky bath bomb and read a book.
If this isn't the ultimate guide to Halloween wellness, I'm not sure what is. Happy tubbing, friends.
Check out the entire Gen Why series and other videos on Facebook and the Bustle app across Apple TV, Roku, and Amazon Fire TV.