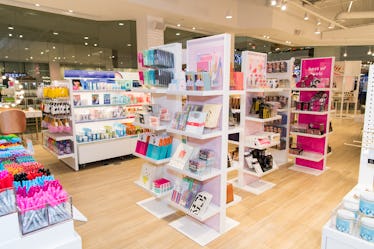 Forever 21's Riley Rose Boutique Is A Millennial Makeup Haven & It's Affordable AF
Emma McIntyre/Getty Images Entertainment/Getty Images
Forever 21 is everyone's go-to affordable store for ~fashun~. Its walls are always stocked with clothes that are cute, trendy, and easy on your wallet. The brand also sells a selection of cosmetics, but they've stepped up their beauty game and launched an entirely new store for millennial makeup lovers. Here's where to buy Forever 21 Riley Rose makeup, because it's quickly becoming the it-place to score cosmetics.
Riley Rose brick and mortar stores first opened in September of 2017, but the online store (which, let's be honest, is what we all really want) launched in February 2018. Riley Rose isn't its own brand of makeup, but sells favorites including Winky Lux, Lipland, Cosrx, BH Cosmetics, and R+Co. The common themes among the products are that they're all affordable, useful, and pretty (translation: Instagrammable AF).
When the storefronts opened last year, Kylie Jenner's BFF Jordyn Woods was on hand to welcome the brand, DJing the event and posing for pictures. And if Woods likes it, that means Jenner likes it, and that means you and I should like it, too.
Riley Rose sells 175 different brands and thousands of products, so what should you buy? Here's my list of all the products I think you should stock up on; they're useful, cheap, and just waiting to be 'grammed.
Winky Lux Flower Balm in Purple
($14; rileyrose.com)
This lip balm is a work of art. It's a clear balm (at first) with a small purple chrysanthemum suspended mid-bullet. It smells like coconut, but the best part is that, when applied, it reacts with your skin's pH levels and turns into a unique shade on your lips.
Lemonhead.LA Gildebeest Spacepast in Champagne Gold
($22; rileyrose.com)
This glitter highlighter paste is self-adhering and can be removed just as easily; no mess, no finding glitter all over your bedsheets in the morning. The brand only makes glitter products, so you know it's the crème de la crème of sparkle.
Blossom Lavender Scented Nail Polish Remover
($8; rileyrose.com)
Lavender-scented nail polish remover — why hasn't this been in my life sooner? I'll happily rid my life of the toxic-smelling fumes from my standard nail polish remover.
BH Cosmetics Essential Eyes 28 Color Eyeshadow Palette in Brown/Multi
($13; rileyrose.com)
This mother of all eyeshadow palettes has 28 shades and only costs $13. Sold! It has everything from a work-appropriate day-time look to a bold smokey eye for your Saturday night #lewk.
R+Co Vicious Strong Hold Flexible Hairspray
($29; rileyrose.com)
R+Co is one of my favorite haircare brands out there. Their products have cheeky names, attractive labels, and they work!
Cocoa Ninja All Natural Teeth Whitening Blend
($18; rileyrose.com)
The idea of putting black gunk on my teeth in order to make them whiter has intrigued me as of late. For $18, I'll finally have to try it out.
Lottie London #LASHGOALS Intense Volume Mascara
($8; rileyrose.com)
Your #lashgoals will become a reality with this mascara. It's volumizing and lengthening and that uniquely curved brush will hit every single lash hair you've got.
Stila Stay All Day Waterproof Brow Color
($21; rileyrose.com)
This brow marker from Stila gives you the filler effect of a pencil but the precision to also paint on hair-like strokes that will last you all day long.
Eva NYC Mini Max Heat Titanium Styling Iron & Bag in Electric Yellow
($30; rileyrose.com)
A mini hair straightener, it's too cute for words. Not really, but it is a great size for traveling so you can tame all those crazy fly-aways on the go.
Tonymoly Tangerine Hand Cream
($12; rileyrose.com)
Tangerine-scented hand cream in a tangerine. This jar will definitely go on display in my apartment once I use up the lotion.
Popsockets Smartphone And Tablet Grip/Stand in Multi
($10; rileyrose.com)
One of the other best things about Riley Rose is that they're not limited to just makeup, they have tech and home accessories too! This Popsocket is one of the more useful items (I swear by mine), if you have a larger cell phone it really makes a difference holding it.
Fringe Studio Gallery Jazz Lacquered Tray
($28; rileyrose.com)
You can get arsty AF with this painted tray, too. Riley Rose's non-beauty products span from cat-shaped paper clips ($8) to a rose gold french press coffee maker ($30), so there's literally something for everyone.