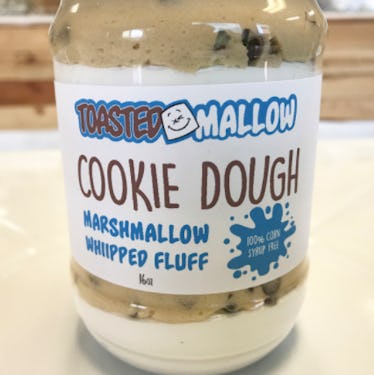 Upgrade Your Peanut Butter Sandwich With New Cookie Dough Marshmallow Fluff
Edible cookie dough has become a hotter commodity than rolled ice cream these days. You can practically get delicious, egg-free cookie dough in any flavor imaginable, but one company has completely upped the ante. Imagine eating your way out of a jar of chocolate chip cookie dough mixed with marshmallow fluff? Doesn't that sound like something straight out of a dream? Well, it's a reality — and if you want to find out where to buy Cookie Dough Marshmallow Fluff, you might find exactly what you're looking for.
Toasted Mallow is a bakery located in Arizona, and they are also the masterminds behind your new favorite dessert. If you want to pick up a jar of Edible Cookie Dough Marshmallow Fluff, you can visit Toasted Marshmallow's bakery in Arizona, or you can order your jar (or multiple jars) for $9, straight from the Toasted Mallow's website. But beware that due to popular demand, your order may take a little longer than you originally expected.
If you need more convincing on why you should pick up a delicious jar of edible cookie dough marshmallow fluff, check out the product's details straight from Toasted Mallow's site, below.
Handcrafted edible Chocolate Chip Cookie Dough is hand-piped and layered with our popular vanilla bean Marshmallow Whipped Fluff is perfect to eat it by the spoonful! Made daily, our whipped marshmallow fluff is a favorite amongst our customers who love cookie dough and is a true marshmallow lover.
Just imagine the snacking possibilities with a jar of edible chocolate chip cookie dough and marshmallow fluff. You can eat it with pretzels, you can put it on delicious toast... heck, you can just stick a spoon in it and go to town.
Each jar contains 16 ounces of marshmallow cookie goodness and has a shelf-life of about eight weeks when you keep the jar in the fridge (but who are we kidding, you'll probably devour it in two days).
If you want to kick your marshmallows up a notch, then maybe you should try making your very own marshmallow shots. Marshmallow shots are very easy to make. All you need are jumbo marshmallows, a stove, a fork, and a bottle of Bailey's Irish Cream. Then you take your marshmallow, stick it on a fork, and hold it over the stove until it is nice and toasty. Use another fork to slide your marshmallow onto a plate, then a well will form. Once your toasty marshmallow cools, you are free to pour your Bailey's into your shooter — and then bottoms up!
If you don't want to do all the work for some alcoholic marshmallows, then you can just pick up some alcohol-infused marshmallows from the Naked Marshmallow's website. Their infused marshmallow collection includes Raspberry and Prosecco, Elderflower and London Gin, and Espresso Martini marshmallows. Sounds delicious! The only downside is that these infused treats are sold out of the UK, and shipping might be a little pricey.
Alcohol with a marshmallow flavor sounds good right? Well, the Naked Marshmallow has you covered, yet again. You can choose from their Vanilla Bean Marshmallow Gin or their Salted Caramel Marshmallow Vodka, but honestly, the decision is a tough one. Each bottle with set you back about £32 (which is about $42), but come on, you can't really put a price on delicious spirits.
If you have an awesome girls' night in coming up, you can serve marshmallow cookie treats with some delicious marshmallow shots, and it'll surely be a fun night! If you get hungry, you can always snack on a peanut butter and cookie dough fluff sandwich.
Check out the entire Gen Why series and other videos on Facebook and the Bustle app across Apple TV, Roku, and Amazon Fire TV.