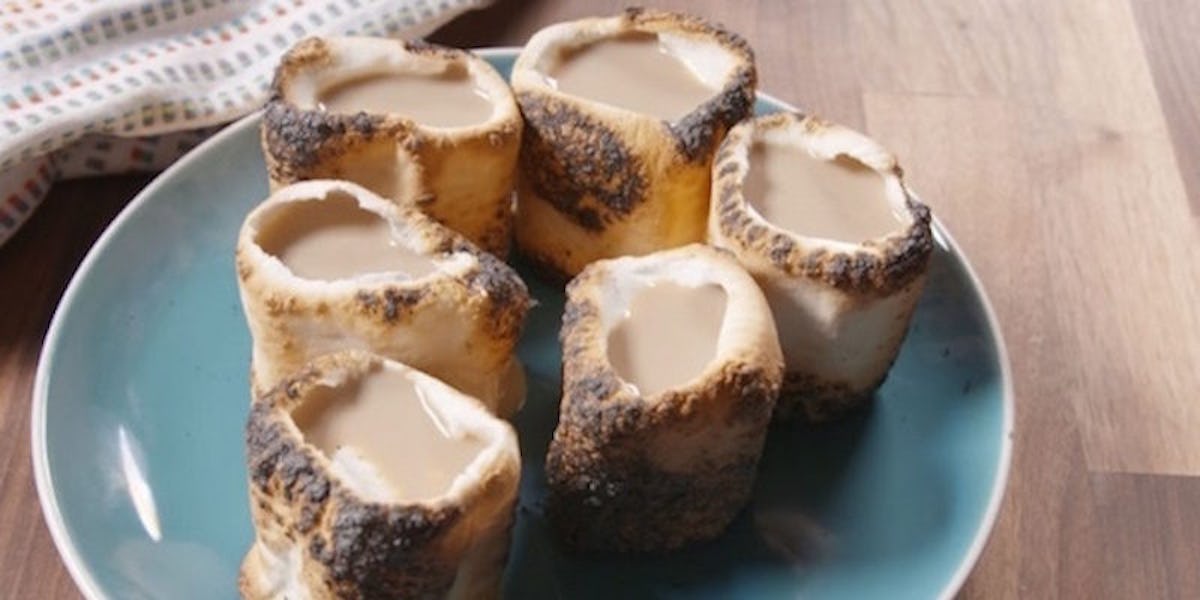 These Toasted Marshmallow Shots Chased With Hot Chocolate Just Won Winter
Nothing beats warming up with some decadent hot chocolate on a cold winter day.
But you know what's even better than topping your cup with a mountain of marshmallows? Demolishing some fluffy marshmallows that will get you more lit than a fireplace, of course.
That's right: Delish recently posted a recipe on YouTube that shows you how to turn boring old marshmallows into a gloriously boozy treat.
I repeat: Toasted marshmallow shots filled with Bailey's are now a real thing. These puffy shooters serve as the perfect way to get plastered while you sip on some hot cocoa in front of the fireplace.
If you're looking to cozy up with some of these tipsy treats, you'll be glad to know the people at Delish were also nice enough to share their sweet secrets. They even showed us how it's done.
To make these toasted marshmallow shots, you'll need jumbo marshmallows, Bailey's and a few forks.
After you gather up your supplies, turn on the stove.
Poke your fork halfway through one of the marshmallows.
Next, hold the marshmallow over the burner of the stove for about two minutes until the outside of the marshmallow is toasted to golden perfection.
Use another fork to slide the marshmallow off the fork and onto a plate.
Wait until a well forms in the center of the marshmallow. Then, fill the marshmallow with Bailey's.
Last but not least, grab some hot cocoa to use as a chaser. Round up your squad, and you're good to go.
Seriously, once you turn up with these mouthwatering marshmallow shooters, you'll never be able to go back to sipping boring old hot chocolate with mini marshmallows that keep you sober.
For a closer look at the whole delicious process, check out the video above.
Citations: These Toasted Marshmallow Shots Are So Much S'More Than Your Normal Shots (Cosmopolitan)