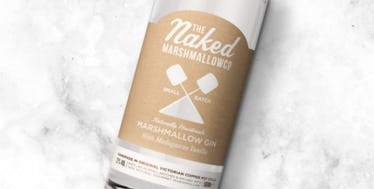 Marshmallow-Infused Gin Is Here To Make Your Final Summer Campfire Complete
NakedMarshmallow.co.uk
Summer might be coming to a close, but you can send off your favorite season in style. Thanks to the Naked Marshmallow Co. and its infinite wisdom, your final campfire of the year will get the sweet and boozy treatment with a glass of marshmallow-infused gin. If you are looking for something to accompany those fantastic s'mores, you certainly found your answer.
Liquor and sweets are having a moment, and fusions like rosé gin, Prosecco doughnuts, and cocktail-inspired ice pops are proof the alcohol-sweets marriage is on everyone's radar. In fact, the Naked Marshmallow Co. received so many requests for tasty interpretations of different drinks that the marshmallow-infused gin was born.
"We thought it was a great opportunity to reinvent another product. With the growing interest in artisanal food and drink, it was a fantastic opportunity to merge the two," Naked Marshmallow co-founder Joseph Colson told FoodBev.
So this is the perfect way to have your marshmallows and drink 'em, too. The gin will be infused with a taste of vanilla bean in order to really capture that roast-marshmallows-by-the-fire vibe. How any of us have made it through July and August without this creation is kind of astounding, if you ask me.
If you don't fancy a glass of gin, you can still capture that sweet summer taste with the company's marshmallow-infused vodka. Even better? It comes with a hint of salted caramel to really take your s'mores cookout to another level. Without question, you're going to be the hostess (or host) with the mostest after you whip out a bottle of either of these two options.
While fall might be upon us, there is still time to savor the final days of summer. Before everyone is inclined to indulge in all-things pumpkin and cinnamon, take that one last sip of marshmallow goodness by the campfire. Grab a bottle here and add some of your own marshmallows (and even whipped cream) for good measure.
Happy last days of summer. Be safe!