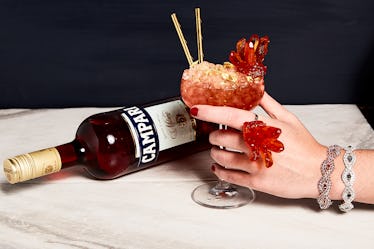 Booze-Flavored Ring Lollipops Are Here To Put A Twist On Your Favorite Childhood Candy
Sweet Saba / Campari
The search for perfect jewelry is over: "Grown-up candy" brand Sweet Saba and Campari have teamed up to release the sweetest bling ever made — as in, it's actually sweet, because it's edible. Think nostalgic Ring Pops but with a luxe flavor profile and a striking color reminiscent of the cherry red Italian liqueur. Did you ever think you'd wonder about where to buy booze-flavored ring lollipops? Me neither, but my candy-obsessed palate is ready to savor the flavor.
According to Sweet Saba's website, the hand-sculpted, limited edition Sweet Saba x Campari Cocktail Ring is "flavored by design to match the one of a kind notes of the exclusive cocktail." Though I haven't yet tasted the crystal-shaped ring, which Sweet Saba and Campari are cutely calling "Campari on the Rocks", I'm assuming its bold notes of citrus and spice and everything nice will stylishly add a new layer of flavor to any cocktail sipping experience. (Plus, it will look gorgeous on Instagram. The posing possibilities with a stunning masterpiece like this — one with an adjustable silver setting — on your finger are so freaking good.)
Here's where I must deliver some not so good news for your budget. Your new favorite two-in-one accessory and snack retails for $62.
Yes, that's as much as a solid piece of real jewelry, but! Ten percent of the proceeds from each sale will go to City Harvest, a non-profit that takes excess food from restaurants and retailers and gives it to those in need.
Once you place an order, the Sweet Saba website notes, your ring will be made fresh, so give them 4-5 days to work their magic before delivery.
Now, let's imagine you already have your Sweet Saba x Campari Cocktail Ring in your possession. What will you drink it with? If mixology isn't your forté (and you're not trying to whip up a boozy creation of your own), I have a recipe for you. Created by Pam Wiznitzer, creative director at NYC hot spot Seamstress, the drink is aptly called Cocktail Bling. The recipe was acquired by Elite Daily via email.
To mix up this drink at home, you'll need the following ingredients:
3/4 ounce Campari
1.5 ounces SKYY Vodka
1 ounce Lemon-infused Cinzano Bianco
Before you grab all your bar tools, you'll need to make the Cinzano Bianco ahead of time. To do this, steep four sliced lemons in a bottle's worth of vermouth overnight. In the morning, strain the liquid back into the bottle. That's your Cinzano Bianco. You only need one ounce of the stuff per Cocktail Bling serving, but it's always good to have extra!
With all your ingredients lined up, it's time to play bartender.
Wiznitzer's method is to first stir all the ingredients in a mixing glass. Then, strain your mixture into a coupe glass over crushed ice for a crystalized effect. Garnish the beautiful creation with a gold flake and, of course, your Sweet Saba x Campari Cocktail Ring.
The end result should look something like this:
I mean... it's just so pretty. If you feel like you need to own at least one Sweet Saba x Campari Cocktail Ring in your lifetime, be sure to act fast, as the delicious collaboration won't be around forever. It's a special edition version of Sweet Saba's signature candy crystal cocktail ring and will likely sell out fast.
In addition to rings, however, the chic candy brand also sells equally elevated items like Candy Cash ($100), Evil Eye Candy ($40), and a Crystal Healer Candy Box Set ($75). They're all so original and, despite lacking an adjustable silver setting, would also probably go well with a sugary cocktail, too.