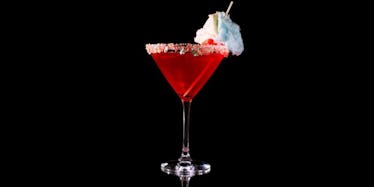 This Bright Pink Cotton Candy-Topped Cosmo Will Make Adulting So Much Tastier
Sugar Factory
Journey inside Miami's Hotel Victor on Ocean Drive, and you'll find a sweet spot called Sugar Factory American Brasserie. While Sugar Factory is known for its celebrity-endorsed candy Couture Pops, the bar's sugary take on a cosmopolitan -- made with cotton candy and a generous vodka pour -- is a more boozy showstopper... especially for unicorn food fans. Charissa Davidovici, Sugar Factory's founder, tells Elite Daily the lowdown on Sugar Factory's Cotton Candy Cosmo, and trust me, you're going to want to recreate it.
Davidovici described the cocktail in a statement provided to Elite Daily. She says,
The Cotton Candy Cosmo turns a childhood staple into an adult treat. Mixing Cotton Candy Vodka with flavors of Orange, Lime and Cranberry allows for fruity, citrus notes to balance out the sweet flavor of the drink. The pop rock rim adds a little extra surprise, while the cotton candy on top lets you enjoy your favorite childhood treat in its traditional form.
What You'll Need
You'll need 2 ounces of cotton candy vodka, 1 ounce of orange vodka, 1 ounce of lime juice, 1 ounce of cranberry juice, half an ounce of triple sec, cotton candy-flavored Pop Rocks, and a pouf of pink cotton candy for garnish.
How To Make It
First, coat the rim of a martini glass with cotton candy-flavored Pop Rocks. Then, combine all the wet ingredients over ice in a mixer. Shake and strain the drink into your glass, and top everything off with your pretty pink pouf of cotton candy.
The end result should look something like the beautiful beverage pictured above. Carrie Bradshaw would be impressed, right?
I recommend having extra cotton candy on deck — you know, just in case you get hungry while channeling your inner expert mixologist and forgetting about your adulting woes.
Cheers, cosmo lovers! Enjoy this sugary, boozy treat.