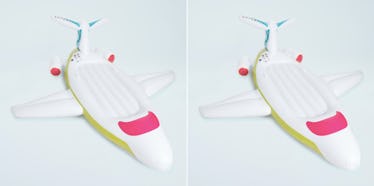 You Can Get A Private Jet Pool Float & It's The Best Way To Soar Through Summer
Let's face it: Private jets are expensive. I'd like to buy one eventually (if I hit the lottery or write a hit song) — but for now, I'll stick with cars. If you wish to live the jet-setting lifestyle without the hassle of spending millions of dollars, I have good news for you. You can buy a pool float that's shaped as a private jet, and it's definitely the next best thing. I mean, c'mon, why wouldn't you want to float through the summer on your very own "pool plane"? I'll do you a solid and let you know where to buy a Private Jet Pool Float by Funboy — because you're rich and famous in my eyes, babe.
There are two places that you can purchase a Private Jet Float, and each website offers a different price. The original float is available on Funboy's website for $99. Sure, that's much cheaper than a real jet plane, but you can find the Private Jet Float on sale if you look a little further into the horizon (see what I did there?).
Believe it or not, the Private Jet Float is on sale for $49.50 on Shopbop. That's right: The online fashion shop is offering the pool accessory for 50 percent off, and it's a hard deal to pass up. TBH, I think the price is perfect for a floating private jet, and I'd be happy to buy one and "take off" to the beach.
Funboy Jet float, $49.50, Shopbop
In case you need more convincing, Funboy's website describes the float as "sleek" and "aerodynamic." The product's description also says, "Why fly coach when you can fly private?" Dang, I couldn't agree more. Apparently, the pool float is also "comfortable and luxurious," so lounging above the clouds — er, I mean, water — would be cozy AF. I'm sold.
According to both Shopbop and Funboy, the float can be inflated in 3 minutes (or less) with an electric pump. It's also 7 feet long, which means you can fully relax and have room to stretch. Based off product pictures of the float, the plane is white and features a green strip along the sides of it. The front window is hot pink, and the tail has blue accents. It's definitely Insta-worthy, and all of your friends are bound to be jealous of your new ride.
Again, you can purchase the Private Jet Float on either Shopbop or Funboy's official website. While you're there, be sure to check out more of Funboy's luxurious pool floats. The company is offering glamours options including a Funboy Fun Ski, a Royal Crown Island Float (for you and all of your friends), a Pink Metallic Lip Float, and many more.
If you're into floats that double as vehicles, maybe you'd enjoy the Retro Pink Convertible Float (it's my personal favorite). The '50s-styled pool float will let you cruise through the waves, and you can buy it on Funboy's website for $128.
Between the Private Jet and the Retro Pink Convertible, you'll probably need an extra driveway just for your water rides. Travel (and swim) safely!