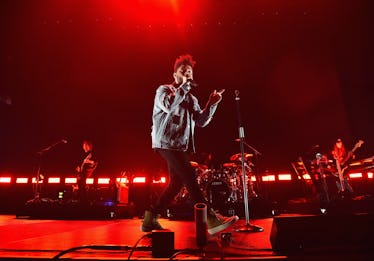 The Weeknd Skipped The AMAs Even Though He Was Nominated For 5 Awards
Theo Wargo/Getty Images Entertainment/Getty Images
One of the problems with dating from one's own field is that when breakups occur, there's always that awkward moment of meeting again at company events. This holds even more true when your day job is being a pop star and those events happen to come complete with highly televised red carpet entrances. With The Weeknd (real name: Abel Tesfaye) and Selena Gomez freshly broken up, and Gomez certain to attend, since she's performing after her new video dropped on Friday, fans are asking: Where is The Weeknd at the AMAs? Did Tesfaye decide that perhaps it was best to bow out? Or did he decide to brave the gossips and walk the red carpet anyway?
The x-factor in all this was Selena's new boyfriend, or should we say, old boyfriend whom she's not gotten back together with for a third time, Justin Bieber. Gomez and Bieber have been an item off and on since they were young teen stars, before they made the transition to the adult side of the pop charts, and sometimes it seems like that bad habit couple from high school who just keep falling back in with each other despite everything. Would Tesfaye really want to see that in person?
Though considering Bieber is nowhere to be seen either, perhaps Gomez told him to lay low, and not interrupt what should be her night.
Just because The Weeknd doesn't walk the red carpet wouldn't automatically mean he's not showing up at all to the AMAs. Lots of stars turn up for events, but choose the skip the red carpet for whatever reason. To be fair, that's kind of a move reserved for the biggest A-listers though. Beyoncé, for instance, or Madonna, on in the movie world, Angelina Jolie. Stars who have a following so large they don't need the added exposure of their face on the red carpet ahead of time. The Weeknd might be quite the performer, but I think we'd all agree he's not Beyoncé's level. Few are.
Still, I would have expected Tesfaye to attend the AMAs tonight. His newest album, Starboy, the persona of which he's also used to branch out into Marvel comics, was nominated for two awards this evening, including "Favorite Soul/R&B Album," and "Favorite "Pop/Rock Album." (I don't know exactly how that works. Don't ask.)
The lead single (conveniently also named "Starboy") is nominated for two more awards, "Favorite Song: Soul/R&B" as well as "Collab Of The Year" for the work he did with Daft Punk on it. The Weeknd himself is also personally nominated for "Favorite Soul/R&B Male Artist." With a possible five wins this evening, one would expect him to be in the audience.
But apparently not, as he posted this to Instagram:
The Weeknd has been trying to lay low this month in general, post break up with Gomez. He was last seen trying to sneak around, leaving the apartment of former girlfriend Bella Hadid.
Hadid and Tesfaye broke up just about a year ago this month, not because of irreconcilable differences or anything, but citing their schedules. He was focusing on finishing and promoting Starboy, while Hadid was riding high on her modeling career. Their statement at the time swore they would "remain friends."
Despite the latest revelations that The Weeknd is paying late night calls to see Hadid, both parties now swear they are not back together. It should be noted, though, that The Weeknd has put out there that he's "never stopped loving her." Is that in order to fan the rumors at least a little bit longer? Or are they working toward reconciliation? Sadly, with no appearance on the red carpet, we won't find out tonight.