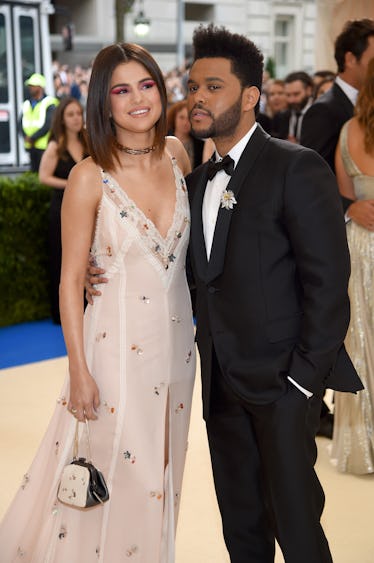 Selena Gomez & The Weeknd May Reunite For The First Time In Public At This Awards Show
Dimitrios Kambouris/Getty Images Entertainment/Getty Images
The 2017 American Music Awards are sure to bring some amazing musical performances and appearances, but will The Weeknd and Selena Gomez reunite at the AMAs? Gomez is set to perform her new single "Wolves," her first performance since she revealed that she had a kidney transplant. Oh, and The Weeknd may just be at the show too.
Anticipation is building over Gomez's performance since she appeared at the AMAs last year, after putting her career on hold to address issues with anxiety and depression stemming from her battle with lupus. At the time, she delivered an emotional speech while accepting the award for Favorite Female Artist – Pop/Rock, saying:
In 2014, this stage was actually the first time that I was authentically 100 percent honest with all of you [referencing her performance of "The Heart Wants What It Wants"]. I think it's safe to say that most of you know my life whether I liked it or not. And I had to stop, because I had everything and I was absolutely broken inside, and I kept it all together enough to where I would never let you down, but I kept it too much together to where I let myself down.
She continued:
I don't want to see your bodies on Instagram. I want to see what's in here. I'm not trying to get validation, nor do I need it anymore. All I can say from the bottom of my heart is I am so grateful that I have the opportunity to be able to share what I love every single day with people that I love, and I have to say thank you so much to my fans, because you guys are so damn loyal, and I don't know what I did to deserve you. But if you are broken, you do not have to stay broken… that's one thing you should know about me: I care about people. And this is for you.
The list of performers for the 2017 American Music Awards is shaping up to be nothing short of amazing, with Gomez, Christina Aguilera, Kelly Clarkson, Niall Horan, Demi Lovato, P!nk, Hailee Steinfeld, Lady Gaga, Shawn Mendes, Nick Jonas, and Diana Ross set to hit the stage. Some on-stage collaborations will also be seen in performances from Imagine Dragons and Khalid as well as Alessia Cara and Zedd. I'd love to see Gomez and Lovato share the stage as well... hey, they're in the same room, so why not make the most of the opportunity?
And speaking of being in the same room... while The Weeknd isn't among the performers, he is nominated, so it's entirely possible that he'll be at the AMAs. Will he and Gomez cross paths, though? It's certainly something to keep an eye out for.
The Weeknd is nominated for Collaboration of the Year for "Starboy," featuring Daft Punk. Interestingly, Justin Bieber, who Gomez is rumored to be dating again following her split with The Weeknd, is nominated twice in the same category, for "Despacito," (Luis Fonsi and Daddy Yankee featuring Justin Bieber) and "I'm the One" (DJ Khaled featuring Justin Bieber, Quavo, Chance the Rapper and Lil Wayne).
The Weeknd is also nominated for Favorite Album, Pop/Rock, up against Drake and Bruno Mars, Favorite Male Artist, Soul/R&B, Favorite Album, Soul/R&B, and Favorite Song, Soul/R&B for "Starboy."
Bieber is also nominated in the Favorite Song, Pop/Rock category for "Despacito" and Favorite Song, Rap/Hip-Hop for "I'm the One."
If The Weeknd wins, will he say anything about Gomez? Or if Bieber wins, maybe he'll give a shoutout to the "Wolves" singer? There are so many reasons to tune in, honestly. The 2017 American Music Awards airs Sunday, Nov. 19 at 8 p.m. ET on ABC.
Check out the entire Gen Why series and other videos on Facebook and the Bustle app across Apple TV, Roku, and Amazon Fire TV.