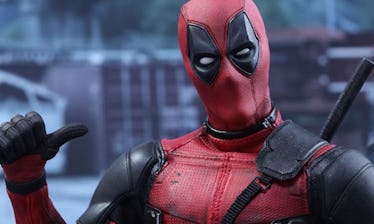 A 'Deadpool' Pop-Up Bar Is Coming To These Cities & You Won't Want To Miss It
20th Century Fox
Come one, come all (if you're 21 or older!) — a Deadpool pop-up bar is hitting two major cities, so get ready to channel your inner Wade Wilson. If you ever wanted to drink like a mutant mercenary and you live in the Los Angeles or New York City area, it's about to be your lucky day. Dive bar Sister Margaret's School for Wayward Girls will go from fictional dream to boozy reality for a limited time only, courtesy of a promotional partnership between Fox and beverage company Mike's Harder. The campaign comes just prior to the release of Deadpool 2, which hits theaters on May 18.
So, when can you get in on the Deadpool drinking action? New York's pop-up hits Brooklyn's Alligator Lounge April 26 through April 28, from 7 p.m. until 11:30 p.m. The venue is also planning on serving pizza. I repeat: pizza will be there. Los Angeles will have to wait a little longer to imbibe like a superhero. Downtown LA's Slipper Clutch will play host to the West Coast pop-up, which you can check out between May 10 and May 12th, 7 p.m. to 11:30 p.m. Deadpool loves him some chimichangas, so Angelenos can prepare to feast on his fave food at the festivities.
You can also get your hands on Deadpool-inspired Mike's Harder cans at both pop-ups. The LA event is set to benefit the DTLA Film Festival, if fans need any more reasons to mark their calendars.
Deadpool isn't the only entertainment phenomenon to get in on the pop-up game. Washington DC set up a a Black Panther themed Wakanda-centric bar in February. Room 237, inspired by The Shining, hit Chicago in January and a watering hole based on cult classic The Room made its debut last year. Later this month, Wayne's World fans can expect to party on at a Bucktown Pub pop-up called Wayne's Basement and a replica of Saved By the Bell's diner The Max is coming to Los Angeles in May, offering up a uniquely nostalgic dining experience.
Deadpool devotees have been anxiously awaiting the film's sequel since 2016. A new trailer for Deadpool 2 dropped last month and just as I'd hoped, it does not disappoint. Even the most reluctant comic book fan can get behind a profanity-slinging snarky superhero who can reference Sisterhood of the Traveling Pants (shoutout to Ryan Reynolds' wife, Blake Lively), act sidesplittingly self-deprecating, and kick evil villain butt while he's at it.
David Leitch (Atomic Blonde, John Wick) stepped into direct the sequel after Deadpool director Tim Miller exited the project. He recently weighed in on how the second film would differ from the first, telling Fandango:
We wanted to make sure that it was worthy of a summer tentpole movie, and we knew we were going to be wedged in between some big films. We did our best to expand the action, and in a general sense, just make it bigger. In terms of the tone, and the fun and the DNA of a Deadpool movie, you're going to get everything you expect and more.
Zazie Beetz is an exciting new part ofthe Deadpool world as Domino, a n addition that Leitch describes as "a fun, real fun interesting take on the comic book character in the canon." Josh Brolin takes on the role of Cable in Deadpool 2, a character fans should probably expect to get used to. "We think about it in four movie terms. We tried to think of Cable as a full arc, not just in this movie, but in the trajectory of four films. That made it a lot more fun for me," Brolin recently revealed.
Deadpool 2 opens on May 18, but if you're in NY or LA, you might just be celebrating the film at a pop-up near you sooner.